A country luxe themed wedding
A country wedding theme for the modern bride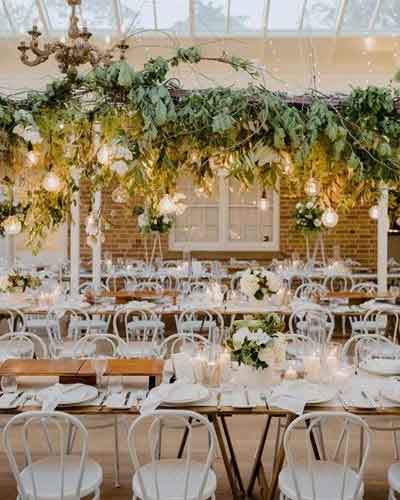 Do you like the warm and welcoming vibe of a country themed wedding but cowboy boots aren't your thing? If you're wanting a luxurious and glamorous feel but you don't want your special day to feel too over the top and extravagant then a country-luxe themed wedding might be a great theme for your day. Some may think country-luxe is like chalk and cheese, or fire and water but not if you follow our tips below. Here's how you can create a modern country wedding with luxe elements.
1. CHOOSE THE RIGHT WEDDING VENUE
Choosing the right venue means you can save significant dollars on styling. Look for a wedding venue with lots of outdoor green space and leafy surrounds. This will allow you to take advantage of the greenery and incorporate natural elements into your styling rather than blowing your wedding budget on flowers and styling pieces to achieve the look you are after.
2. USE A NEUTRAL COLOUR PALETTE
By choosing a neutral colour palette you'll give your wedding styling an effortless luxe vibe. It's important to mix textures such as more natural linen pieces with refined metallic surfaces to achieve that balanced country-luxe theme. Candlelight is also a must to add that luxurious touch to your styling, not to mention it looks so romantic!
3. SELECT A MENU WHICH ENCOURAGES YOUR GUESTS TO SHARE
Choose a feasting style menu because it's homely, generous and naturally encourages conversation. This communal style of dining is perfect for creating a relaxed and hospitable ambience, as guests are encouraged to help themselves to a variety of food in the form of shared platters placed in the middle of the table. A feasting style menu is similar to a large family dinner; it's all about friends coming together and sharing food.
4. DRESS TO IMPRESS
Ok so this is where you can really up the ante on the luxe factor. Nothing looks smarter than a tux combined with the green tones of an outdoor ceremony location. We'd recommend a black-tie dress code for your guests. Full length dresses and bow ties will bring the luxe vibe to your wedding and the best part is you don't need to pay for it. Ladies, think sequins, beads raw silk fabrics and your country-luxe wedding dream will come true.
If you want to know more about outdoor weddings, please click this:  Create a rustic wedding theme