Candy Cart: Decorating Your Wedding with Sweet Memories
Your wedding day is a celebration of love, joy, and the start of a beautiful journey together. As you plan the details of your special day, one element that can add a touch of whimsy and delight to your wedding reception is a candy cart. A candy cart is not only a fun and interactive addition to your decor, but it also serves as a unique way to treat your guests and create lasting memories. Let's explore how you can decorate your wedding with a candy cart and make it an unforgettable experience for everyone.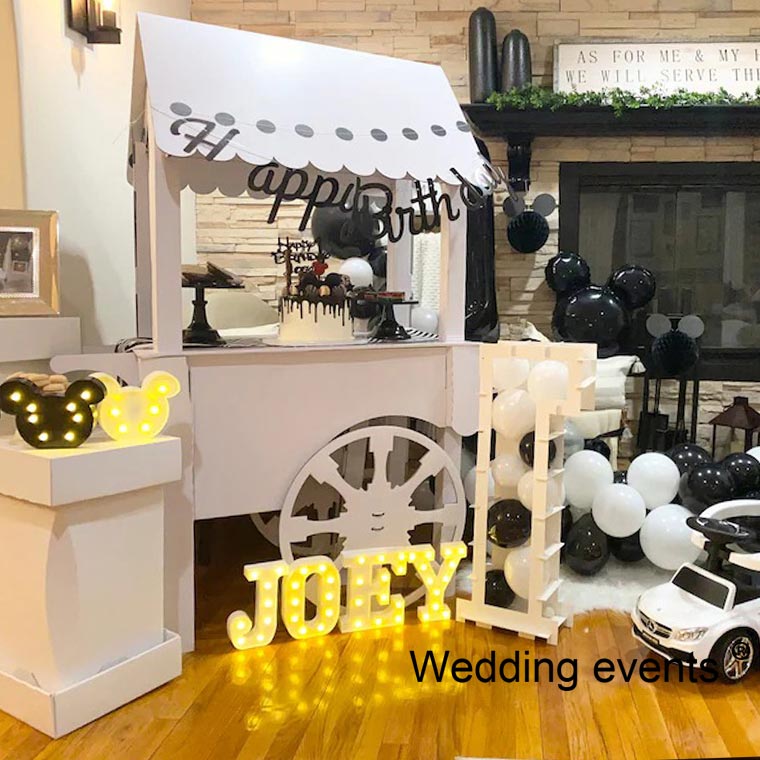 Eye-Catching Display
A candy cart serves as a focal point and instantly captures the attention of your guests. It becomes a visual delight with its vibrant colors, charming decorations, and an array of delectable sweets. Customize the cart to match your wedding theme, whether it's rustic, vintage, or modern. Consider adorning it with floral arrangements, fairy lights, or personalized signage to make it truly stand out. The candy cart becomes a stunning centerpiece that adds a touch of charm and whimsy to your reception.
Sweet Treats for All
One of the highlights of having a candy cart at your wedding is the variety of sweet treats it offers. Fill the cart with an assortment of candies, chocolates, and other confections that cater to different tastes and preferences. From nostalgic childhood favorites to gourmet delights, the candy cart becomes a candy wonderland for your guests to indulge in. Consider including a mix of colorful candies, elegant truffles, and even personalized treats with your initials or wedding date. The possibilities are endless, and your guests will appreciate the thoughtfulness and deliciousness of the sweet offerings.
Interactive Experience
A candy cart provides an interactive experience that engages your guests and adds an element of fun to your wedding. Invite your guests to help themselves to the sweets on display, creating a self-serve candy buffet. You can also provide personalized favor bags or boxes for guests to fill with their favorite treats to take home as a sweet memento of your special day. This interactive element not only entertains your guests but also encourages mingling and conversation as they share their favorite candies and memories.
Decorative Delights
Beyond the candy itself, the candy cart can be decorated with additional decorative elements that complement your wedding theme. Incorporate ribbons, garlands, or banners that match your color scheme. Add elegant glass jars or apothecary containers to display the candies beautifully. You can also include decorative signage with playful quotes or messages that invite guests to indulge in the sweetness of the day. The candy cart becomes a decorative piece that enhances the overall ambiance of your wedding reception.
Personalized Touches
Make the candy cart even more special by adding personalized touches. Consider incorporating personalized labels or tags for the candy jars or favor bags. Include a sign that shares a sweet story about you and your partner or a heartfelt thank-you message to your guests. These personal touches make the candy cart unique to your wedding, creating a memorable experience that reflects your love and appreciation for your guests.
Incorporating a candy cart into your wedding decor is a delightful and whimsical way to add sweetness and fun to your special day. It becomes a focal point that not only captivates the eyes but also treats your guests to a memorable and interactive experience. From the vibrant display of candies to the personalized touches, the candy cart creates a unique and joyous atmosphere that will leave a lasting impression on your wedding guests. So, indulge in the sweetness and make your wedding a truly unforgettable celebration.
---
If you want to know more about outdoor weddings, please click this: Charger Plates: Elevate Your Table Setting with Elegance