Decorate wedding cake in 10 creative ways
Decorate wedding cake-It doesn't get more classic than a tiered white wedding cake. The traditional confection is wholly symbolic of weddings and will never go out of style. The only hard part about choosing a white wedding cake is deciding how you should embellish it to make it unique to you and your partner. Luckily, we found some pretty cool ways to decorate a white wedding cake to suit your wedding style and aesthetic.
If you want to make a white wedding cake more suited to your bohemian wedding, draping simple greenery along the tiers will add a relaxed and organic vibe to the dessert. Want to make a white wedding cake a little more modern? Try including geometric elements, like square tiers or a 3D-printed cake topper. If your wedding aesthetic is soft and romantic, then try adding fresh, full blooms in blush and pink hues to your wedding-day dessert. All these options are almost too pretty to eat!
Browse all 10 ways to decorate a white wedding cake, below. Plus, get some top tips from expert bakers on how to get the look.
01 Draw Inspiration from Your Wedding Dress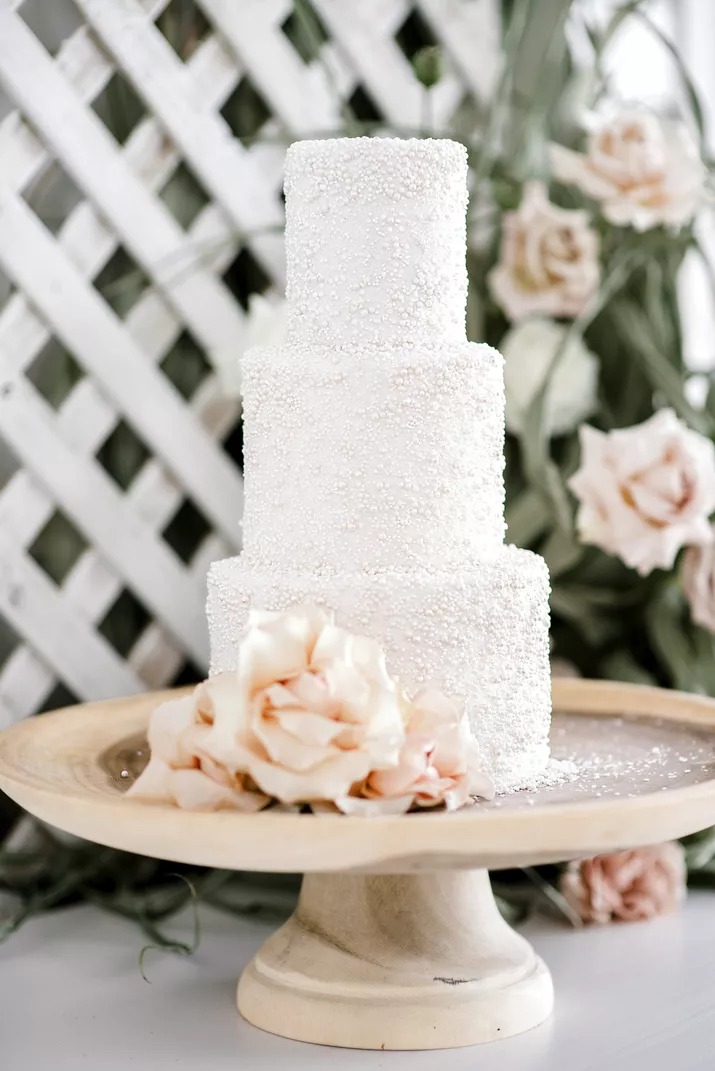 For a treat that's equal parts elegant and understated, Bree Meldrum, of The Cake That Ate Paris took inspiration from her own wedding dress, with its hand-sewn pearls and crystal beads. "This was covered in edible sugar pearls and crystals for a wow factor that wasn't over the top."
02 Mix Modern and Romantic Details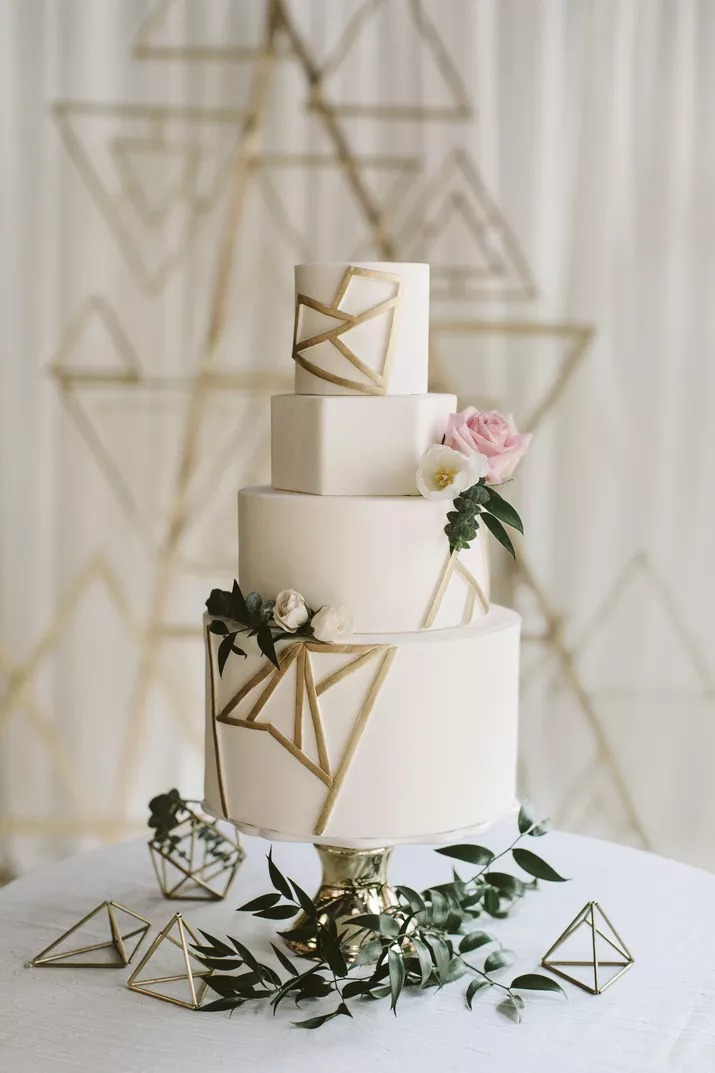 "I used gold geometric elements for a modern feel," says Toronto-based creator Bernadette Caleon-Escutin of Matamiese Cakes. "If you want to soften it up, add cream and blush-toned fresh flowers as accents that deliver a little romance."
03  Add Some Color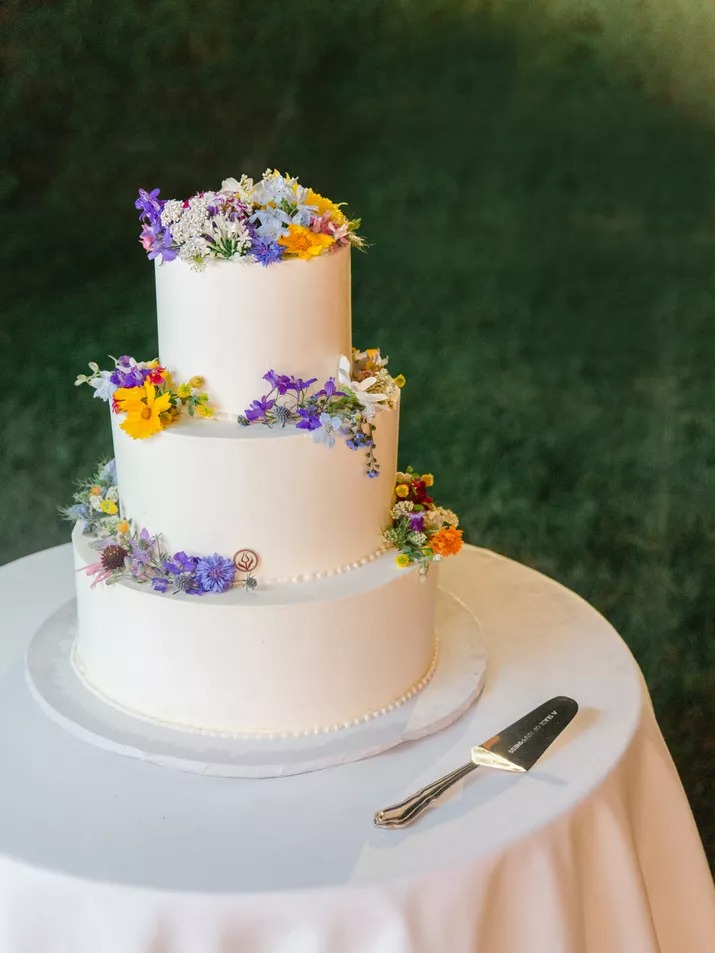 Adding some vibrancy to a white cake isn't hard at all and can even be done last minute. Have your florist (or a friend!) buy some edible flowers in bright colors for a garden-fresh pop. Just make sure that the flowers are small in size so they don't overwhelm your cake.
04 Get Tropical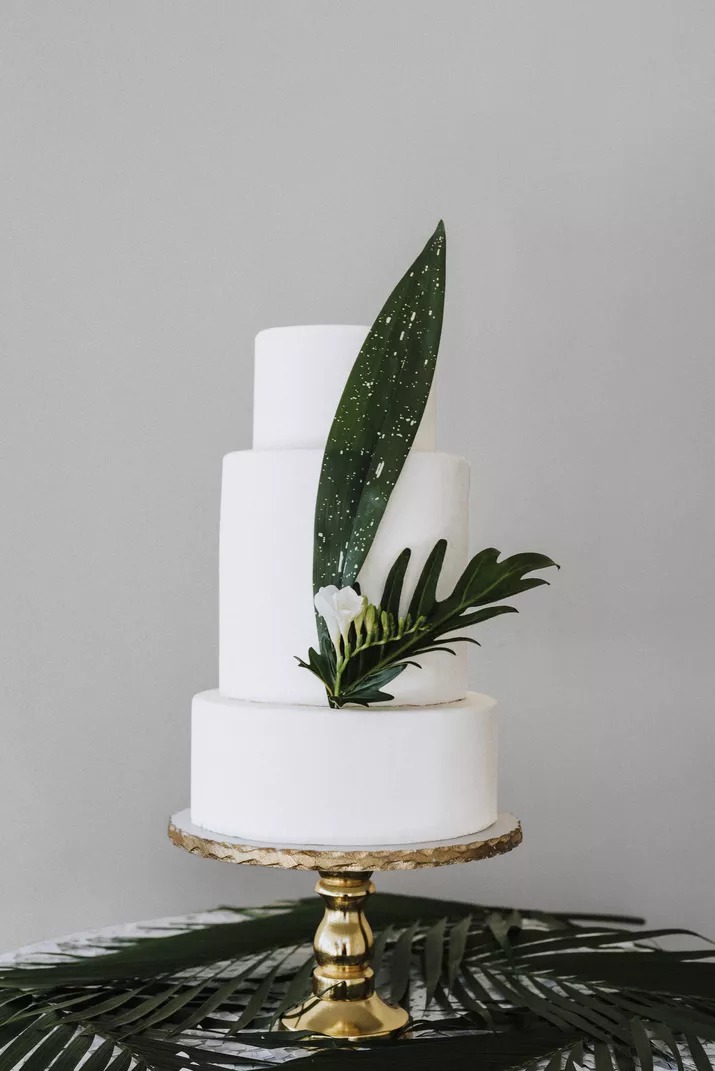 For this take on a tropical theme, Negar Nadimi of Ma Petite Maison Cake Design let the event's florist take the lead: "Structural greenery makes a statement on its own; less is more when going for a minimal look," explains Kaylia Fisher of Tumbleweed Floral Truck.
05 Have Several One-Tiered Cakes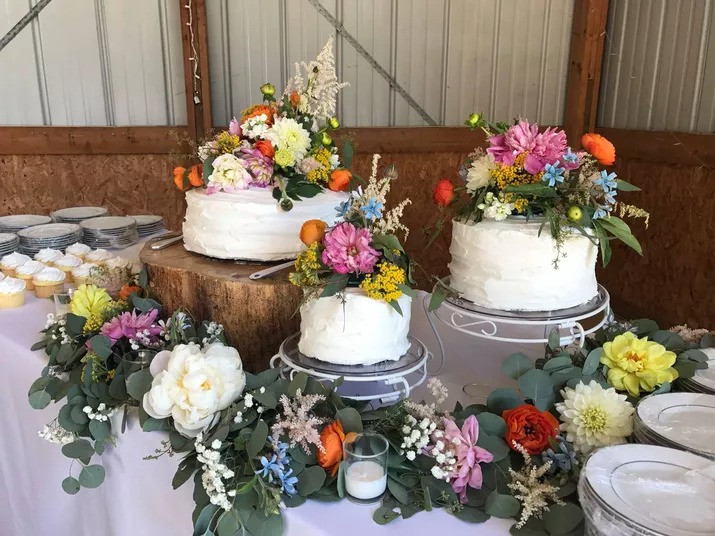 Conflicted as to how to make your white wedding cake stand out? Why not have multiple one-tiered cakes (in different flavors!), all displayed on a dessert table? This is a good way to create a visual impact without having to have a huge, over-the-top cake.
06 Go Classic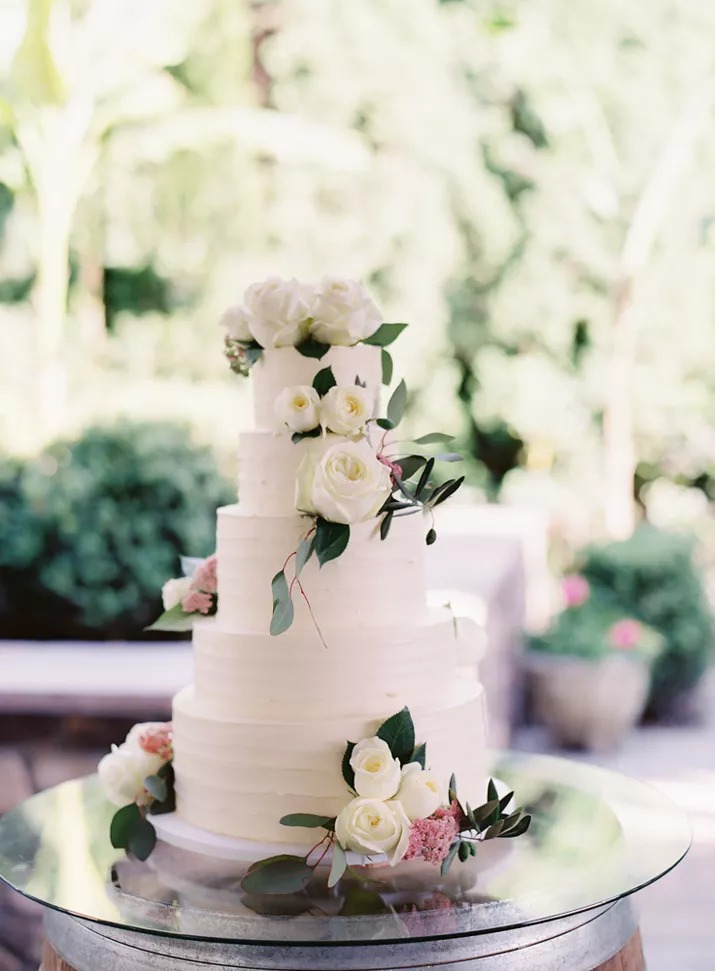 A white buttercream cake feels garden-wedding-ready when adorned with traditionally bridal blooms like white roses. Add some greenery like eucalyptus for a slightly more organic feel.
07 Keep It Monochromatic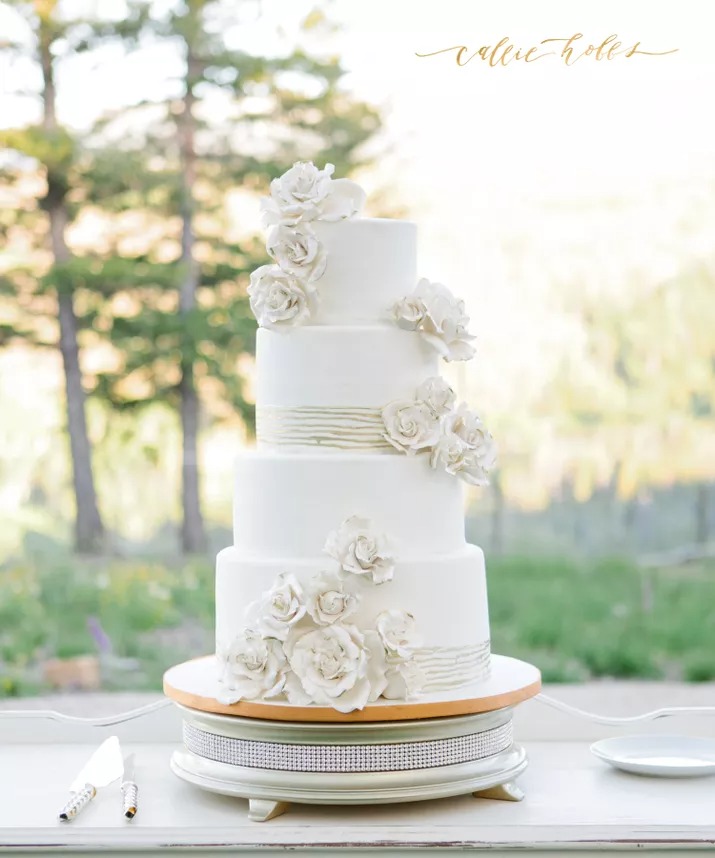 If you want a subtle upgrade to the classic white wedding cake, add some white 3D elements (like sugar flowers or fondant trim) to the tiers to keep things interesting but still quiet.
08 Add Pressed (Edible!) Flowers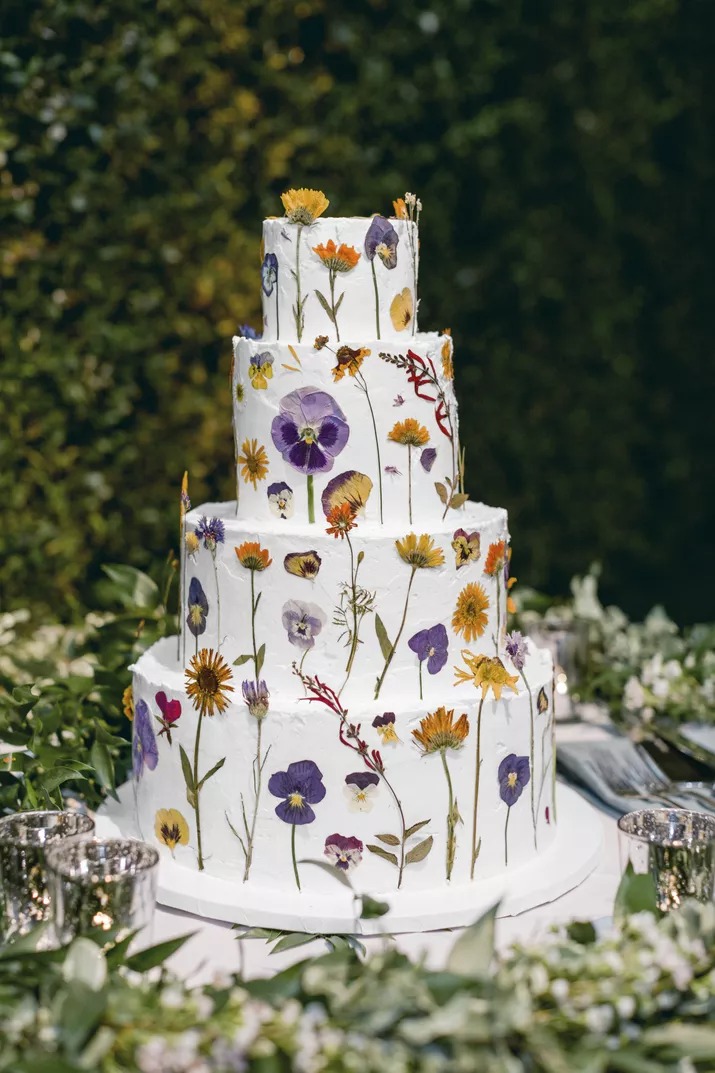 To achieve this bohemian rhapsody, Loria Stern of Lori Food and Cakes used edible pressed flowers—an easy way to add a unique spin to buttercream tiers. You can do it to your cake, too, with handpicked pressed blooms from the caterer's organic garden in Montecito, California ($40 for 20).
09 Hand-Painted Details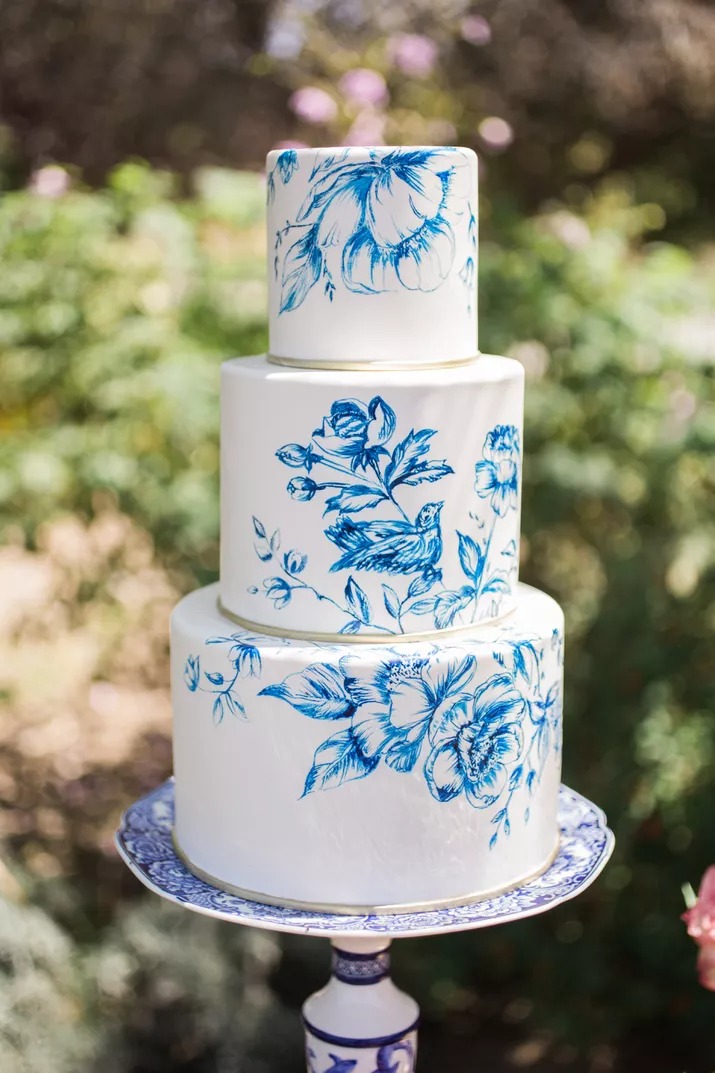 Get inspired by a favorite swatch of fabric or wallpaper, and have your baker print or hand paint the fondant with the print for a fresh take on the classic white wedding cake.
10 Try Non-Round Tiers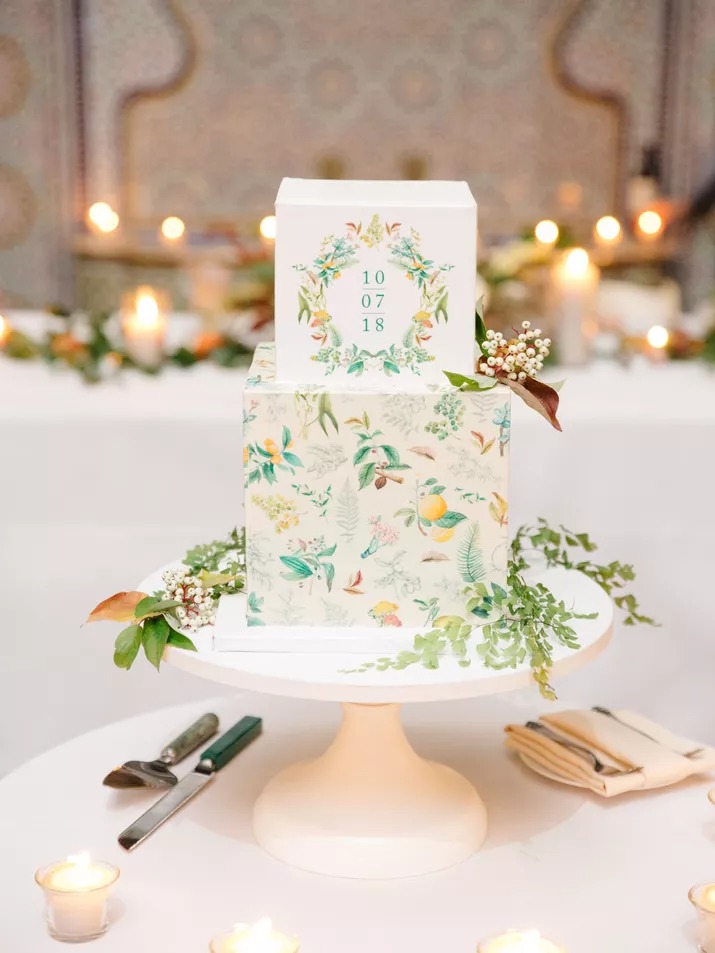 If you want something unconventional without over-the-top embellishments, consider uniquely shaped tiers like this square-shaped cake.
Want to know more about our blogs? Please see this article: Winter weddings 7 color palettes
Click on Instagram or TikTok for more product details where available or contact the team for more information about products not currently on our website.