Wedding Backdrop Trends–We're continuing our series on wedding trends for 2022 with a look at the centerpiece of the big day — backdrops. From geometric designs and electric signs to lush greenery, we're sharing the five top wedding backdrop trends for 2022 that we're loving!
THE IDEA BEHIND WEDDING BACKDROPS
In recent decades more and more weddings are not just held in houses of worship but in dedicated wedding venues and outdoor spaces. This has given rise to the trend of wedding backdrops. Backdrops started as a simple way to recreate the feeling of an altar or similar point of focus.
Today, wedding backdrops are all about creating a focal point, being a beautiful frame for the main event, and bringing the theme seamlessly together.
The most popular wedding backdrop ideas are all about creativity as well as functionality.
5 TOP WEDDING BACKDROP TRENDS FOR 2022
The sky is the limit when it comes to creative wedding backdrop ideas for today's couples, but there is a handful that we think you'll be seeing a lot of in wedding trends for 2022.
Here's a list of what we're seeing — and loving!
1. Art Deco-Style Arch Backdrops
These art deco-style backdrops are popping up everywhere and there's no guesswork as to why. They are super versatile and they work for a myriad of styles and colors. They look super-stylized with bright shades or in muted tones like the backdrop below.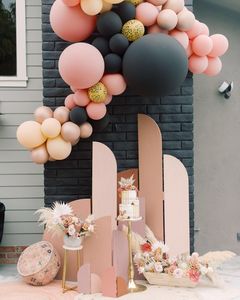 An added bonus to this wedding backdrop trend for 2022 is how mobile it is. It's perfect for a venue, as well as a simple outdoor location, and let's not forget how well this would work for elopements.
This also is highly customizable and appeals to couples with a DIY streak. That could be good for vendors because that opens up a potential stream of income for creating custom backdrop orders.
2. Electric Signs for Ceremony and Reception Backdrops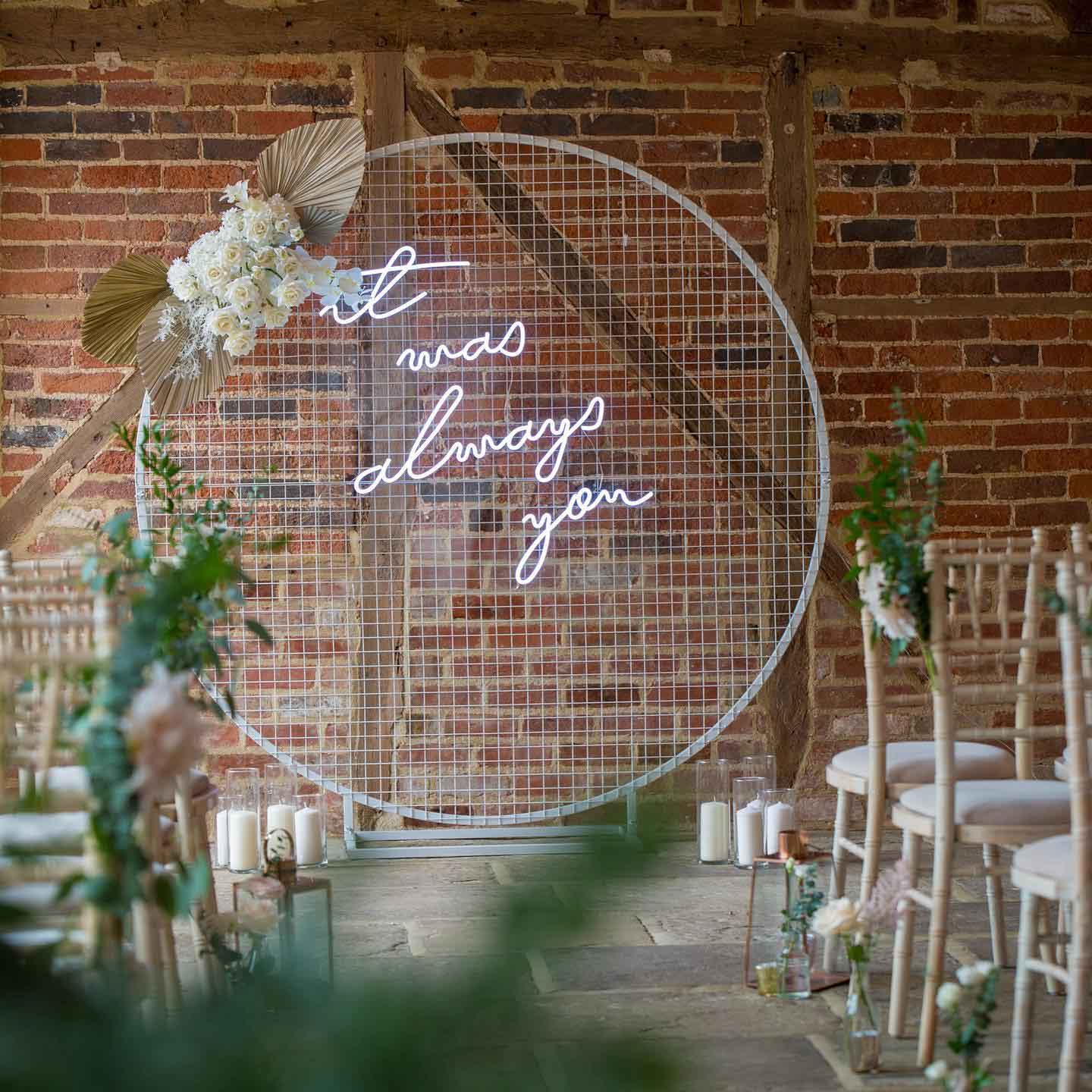 Neon signs have been on the rise in the last year or two and we don't see that stopping anytime soon.
Now, we're seeing this trend move from the reception to the ceremony. Plus, couples are having even more fun with colors, custom names, and clever love quotes.
3. Geometric Wedding Backdrops (in All Shapes and Sizes)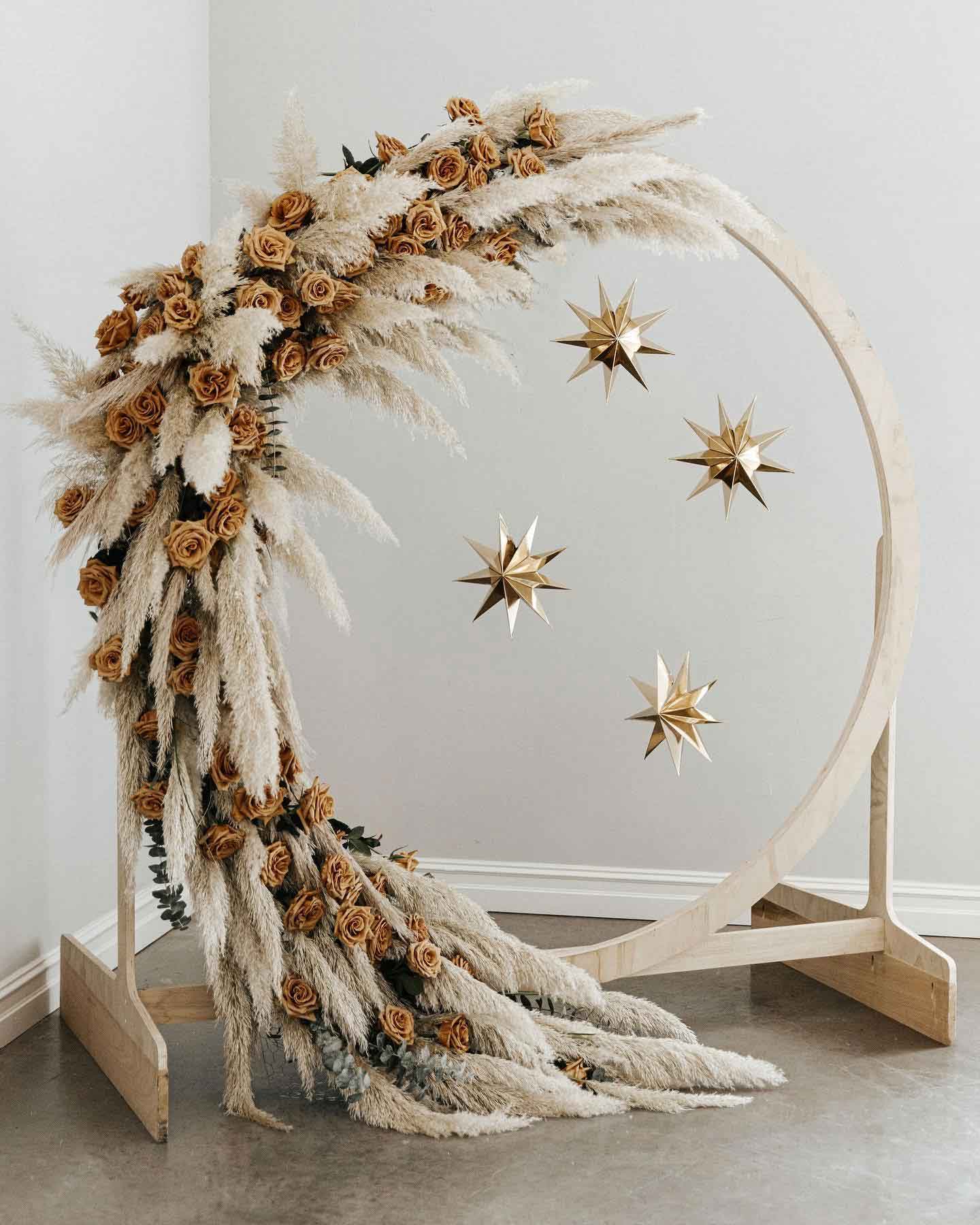 These geometric backdrops come in all shapes, sizes and materials. They are perfect for any number of wedding flower styles from oversized pampas grass to minimalist garden greens.
The only limit here is your imagination. We're loving what we're seeing from wedding vendors across the country and around the world.
These backdrops are best for blank slate-type locations that need a focal point. They are often used in outdoor weddings, and can be festooned with florals, fabrics, paper, macrame, and more!
One of our favorite ways to see this geometric backdrop element used is to be a frame for the real backdrop — and amazing vista.
4. Grounded Arches
Speaking of gorgeous vistas, for people who aren't wanting to frame it, we're predicting more grounded arches as backdrops. These are also great to use throughout the event space and make an amazing photo opportunity.
Some grounded arches even get a little height on them — and we're loving it!
5. Stylized Hanging Florals
Expect to see more and more stylized hanging florals with unique motifs.
Whether it's a striking two-story installation that comes to a point or a sweetly draped arch with delicate blooms, this wedding trend can be interpreted in a myriad of fun ways.
Bonus Backdrop: Hanging Lights
We couldn't stop with just five. We had to add a bonus for this hot wedding trend. Specialty lighting is already on the rise for weddings as people want to transport their guests and create a unique ambiance.
We're seeing people take that trend into their wedding backdrop no matter if their style is a rustic barn wedding or a modern wedding venue and anything in between.
HONORABLE MENTION OF WEDDING BACKDROP TRENDS
These are honorable mentions because some of them are simply locations, but with the rise in outdoor weddings, due to safety, wedding vendors can expect to see couples leaning towards these selections.
A Homey Hearth
Home weddings or ceremonies in a smaller vignette at a venue, more and more couples are opting for a homey hearth.
Whether it's a fireplace in a home or a large-scale mantlepiece, we're loving all the iterations this can take.
Sweetly Draped Gazebos
We're seeing a revitalization of the gazebo ceremony. (Cue us dreaming of a Sound of Music gazebo wedding.) Wedding venues may want to take a closer look at adding options like this to their property in the coming years.
A Room with a View
Windows, doors, and views, oh my! Couples are loving the setting of windows and open doors whether inside or outside. Floral installs that highlight the shape make this even more fun!
Surrounded by Family
In this season of intimate weddings and a refocus on what's most important in life, we're also seeing a rise of couples who make their guests the backdrop in a circular design.
These pair very well with a low grounded arch.
Click on Instagram or TikTok for more product details where available or contact the team for more information about products not currently on our website.
Read more articles: Wedding food trucks