10 Gorgeous Tablescapes to Inspire Holiday Decor
With turkeys and stuffing to worry about, often table dressing can fall to the bottom of a holiday to-do list. Rather than falling back on your same old vases and candles, try these original ideas from event decor specialists to make your table memorable. Even better, just hire them to come in and do it for you!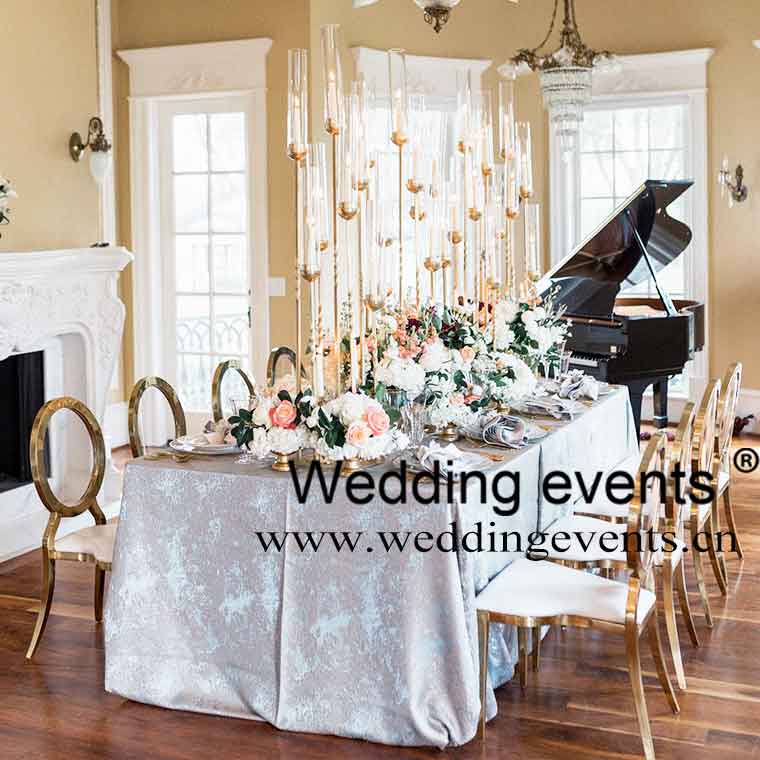 1. CREATE PERSONALIZED PLACEMATS AND NOTES
Use your untapped artistic skills to decorate a mat for each guest with their name and fun messages.
2. WRAP EACH NAPKIN IN RIBBON
The look of a special little gift perched at each setting will give your table a festive feel.
Gold-rimmed glasses and chargers and dipped silverware can dress up any table.
4. DON'T CONFINE YOUR FLORALS TO THE CENTERPIECE
Rest a simple beautiful flower at each spot at this dinner to offer each guest a bit of whimsy and brighten the entire table.
5. INCORPORATE FAMILY HEIRLOOMS INTO YOUR DECOR
Whether it's grandma's serving platter or your own wedding china, pull out the good stuff for the holidays and build your tablescape around it.
6. USE FRUIT TO ADD COLOR TO YOUR HOLIDAY TABLE
When it comes to fresh decor, don't just stop at the florist, head to the grocery store or farmer's market for edible adornments.
7. LET YOUR TABLECLOTH ADD AMBIANCE
Glittering beauty Linen makes the entire room shine with its oversized silver sequins reflecting all the light in the room. The rest of the decor can be simple when the tablecloth is such a stunner.
Don't limit yourself with the same old flower holders you've used for years. Use unconventional choices like teacups, bottles (cleaned of labels), tiny cordial glasses, ice buckets or pitchers to add interest.
9. USE FABRIC TO CREATE INTEREST
Rather than a stiff line down the center of the table, the folds in the fabric create height and space to tuck candle bases and even mini pumpkins as has been done here.
10. DON'T SKIMP ON THE CANDLES
Their flickering flames add instant ambiance to any space. Make float candles in glass containers for an unexpected and dreamy effect. Try using large glass bowls and clustering several candles at once.