Champagne Walls: How to Pull Off This Trend That Isn't Fizzing Out
What's better than a wall of beverages just primed for cheers at one of the most important celebrations of your life? Champagne walls have been trending here on INS for a while — and they aren't going away soon.
What is a champagne wall?
A champagne wall is an installation that holds glasses of champagne or beverages for guests to grab at weddings or events. That's a champagne wall in its simplest terms, but they're much more than just a drink station. They can also double as art pieces, photo backdrops, and even escort displays.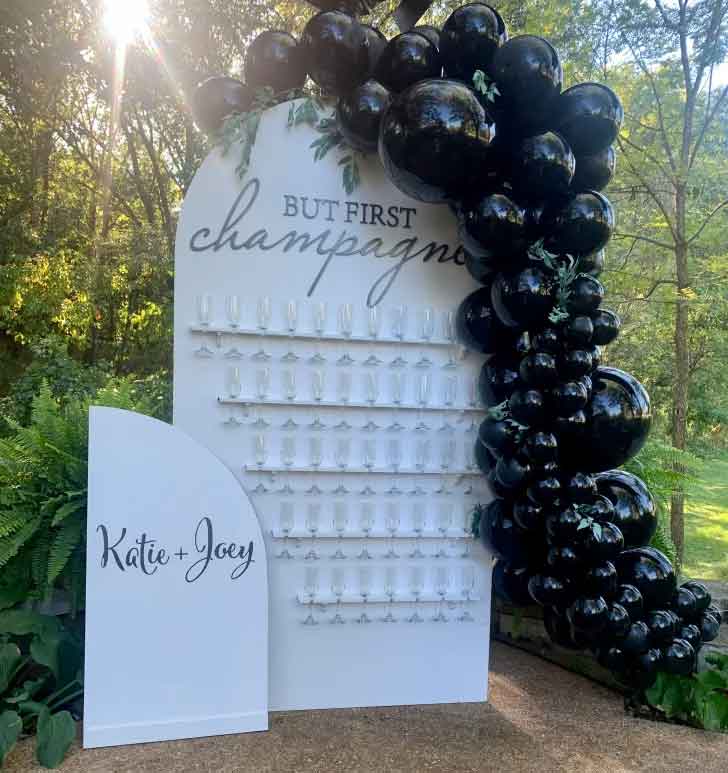 Why should I have a champagne wall?
One of our best pieces of advice when it comes to planning your wedding decor will forever be this: plan one show-stopping piece that can do double duty. Sometimes it's a wedding backdrop that doubles as an alter and sweetheart table decor. Sometimes it's a floral installation that can move from ceremony to reception. In the case of a champagne wall, this piece can serve for several show-stopping moments.
As we mentioned above, in its simplest state, a champagne wall serves champagne! But beyond that, it's a centerpiece of the reception. Guests will no doubt take photos in front of the wall, acting as a meeting place and a backdrop. Attach tags with names and tables and you've got yourself an escort display. Roll out the cake in front and it's the perfect backdrop.
Whatever the case, you can't go wrong with a champagne wall. The only question — how will you make it yours? Let's have a look at how some couples incorporated the trend into their big day. From design ideas to DIYs to where to find a champagne wall near you — let's pop the cork!
Champagne Wall Ideas + Inspiration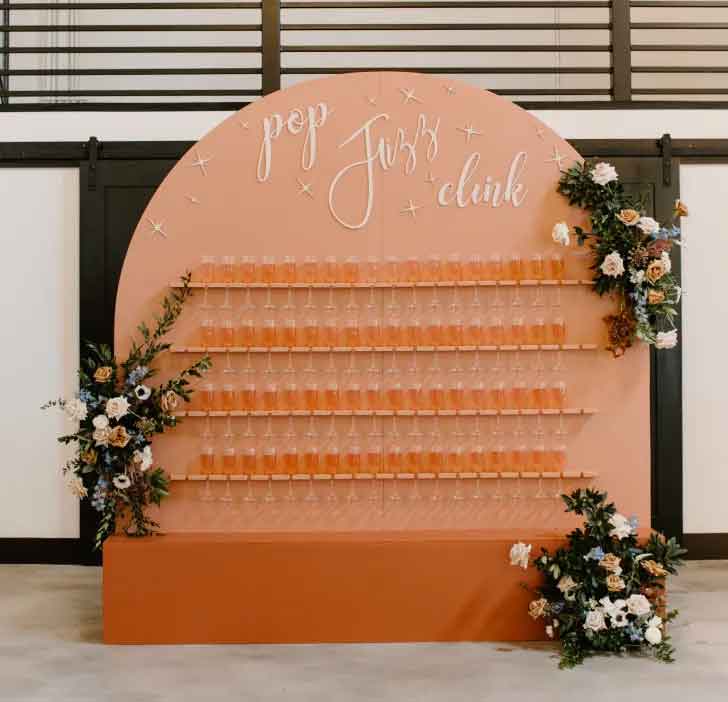 Any good event begins with an idea. It could be a color, a phrase, a flower, or a place. Whatever theme takes hold for your wedding, it can truly come to fruition with your champagne wall! Be it romantic, boho, or modern — your wall should follow suit. We love this one for its bright pops of orange and the offset of the florals. And that joyful "Pop! Fizz! Clink!" brings a playful tone to this stunning centerpiece!
If modern and minimalist is more your vibe, you can really make a statement with a monochrome design. Add a simple flower install if it needs that little something. We love how these florals add a chic boho feel to the overall design!
Ready to incorporate a champagne wall into your big day? As French novelist and playwright Honoré de Balzac famously quoted, "Great love affairs start with champagne…" and great, parties, too. We'll cheers for that!
If you want to know more about outdoor weddings, please click this: Wedding furniture: 3 stages of finding inspiration