Live stream a wedding
The corona is gradually getting better, but there will be a lot of worries among the bride and groom as it is not yet a situation where the wedding can be enlarged as before. So these days, there are many people planning micro weddings with only two brides and grooms or small weddings with only immediate family members. And in line with this trend, in recent years, live streaming services for weddings for guests who are unable to attend the wedding have become popular. These days, due to the Corona, online meetings and online lectures are frequently encountered in daily life, so guests can participate in a much more familiar and comfortable way than before.
In particular, since most destination weddings are not necessarily due to Coronavirus, there are relatives and acquaintances who are difficult to attend weddings on the street, so I think it will be an important wedding option even after the corona pandemic. So I prepared.
Today, we will share valuable information and tips on live-streaming weddings that many brides and grooms are curious about.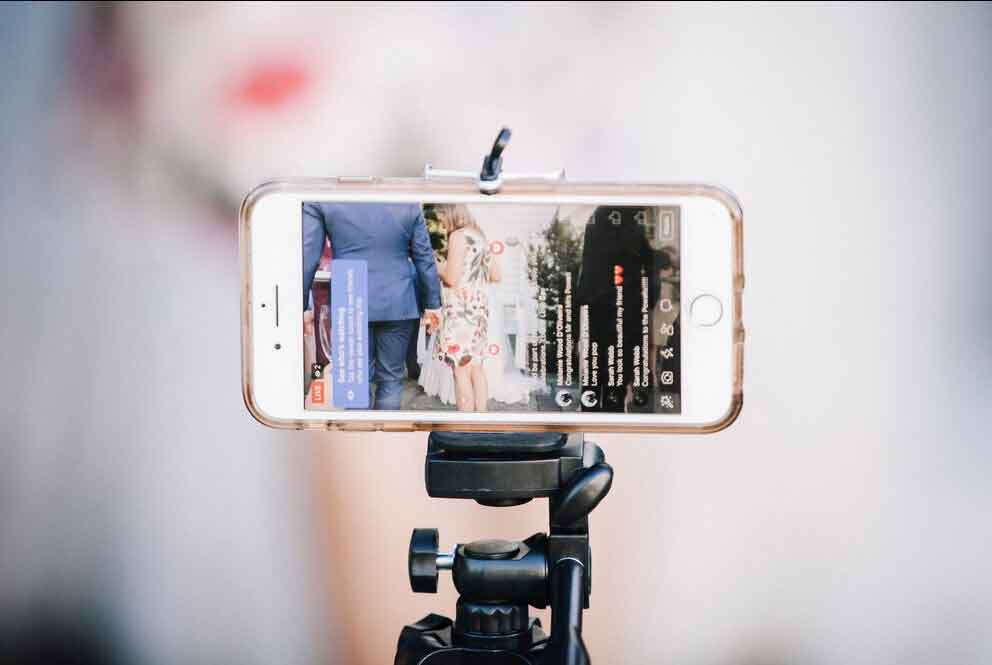 How to live stream a Wedding
1. Choosing a Live Streaming Platform
There are so many different ways you can do live streaming of your wedding. You can use various free streaming services such as YouTube Live, Instagram Live, Facebook Live, Zoom, and Google Meat. Of course, each streaming service has advantages and disadvantages. In the case of Zoom or Google Meat, it has the advantage of having a more interactive conversation with the guests or viewing each other on a monitor, but on the other hand, if there are many guests, it can be a little complicated to proceed and there is a little more possibility of interruption in the middle. High. In addition, in the case of the free service, Zoom has a limit of 100 people or less and a maximum of 40 minutes. In the case of YouTube and Instagram Live, streaming is more stable and many people can participate in the wedding, but there is a limitation that guests can only interact through the chat box. All of them have their pros and cons, so it would be a good idea to test and decide the service that suits your wedding in advance. Depending on the situation, you can use multiple channels at once if you want.
2. Request a live streaming specialist
Recently, many wedding video companies are offering live streaming services. There are many companies all oval the world that conducts live streaming of weddings, but it is possible to do more professional quality streaming than do it yourself with a DIY mobile phone or laptop. Usually, three cameras for the entire family are set up, so you can view them from various angles and deliver a cleaner sound with professional audio equipment.
3. Wedding Setup
If you have a micro wedding or a small wedding and most of the guests participate in the wedding virtually, you can pay more attention to the wedding arch or flower decor because there are many cases where reception is not required. It is good to set up the arch setup direction or the movement line of the bride and groom in the direction that can come out the prettiest considering the shooting angle and natural light. And, instead of skipping the reception, you can set up a simple cake-cutting or champagne toasting after the wedding, so that the bride and groom can leave a thank you message to the guests while watching the screen or talking interactively.
4. Pre-coordinate with the vendors
If you're streaming live, it's a good idea to discuss this with vendors such as officiating, musicians, wedding venue managers, and photographers. Especially in the case of YouTube, there may be problems related to music copyright in live streaming, and various factors are involved, such as the Wi-Fi status of the wedding venue and the movement of the photographer shooting. of course, if you hire a professional streaming company, there is no problem because the company prepares it for you, but it is recommended that you check in advance if you are streaming directly.
5. Live Streaming Invitation
It is of utmost importance to provide accurate streaming links and times for guests attending online. You can of course post invitations to private chat rooms. Another tip is to start off a little earlier than your wedding time so that your guests can properly access and check the live streaming link. To this end, a live streaming company may offer an optional service that displays a countdown clock before the wedding begins or a pre-slide show with photos or videos of the bride and groom. I've outlined the wedding live streaming, and I hope this helps the bride and groom. If you have more questions about Wedding events, please do not hesitate to click the contact link below or the Contact Us link on the website. We will provide you with a friendly and detailed consultation.
If you want to know more about outdoor weddings, please click this: Create Lounge at Wedding