ROYAL WEDDING TOP TABLE–HOW TO CREATE
With Prince Harry and Meghan Markle's wedding not far away, the regal celebrations have inspired many couples who are opting for a royal wedding style top table for their weddings this spring. These are some of my favorite ways to incorporate your own royal top table at your wedding…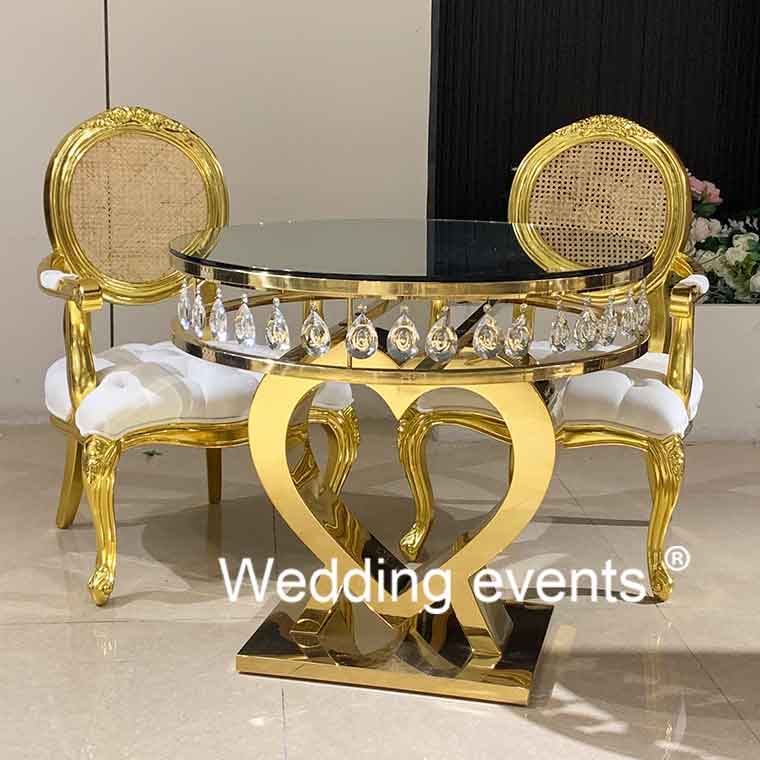 Tablecloth
A royal top table would traditionally be rather long to accommodate most of the essential members of the Royal Family, our Sovereign included. An immaculate white, crisp damask cloth would most likely cover the table. Recreate this look with a twist by sourcing some damask-style material in a color to match or contrast your wedding theme. This will ensure your tables stand out beautifully.
Table Displays
A grand and regal table display is key to creating a luxury, royal look. Choose displays that give a wow factor without being too opulent or ostentatious. When designing your table displays, make sure the table isn't too crowded and the displays don't obscure guests' view of everyone sitting at the top table.
Peonies are the favorite flower of the royal bride-to-be. Include these beautiful flowers in your table designs by laying a full foliage garland of laurel along the table and stud with armfuls of peonies in shades of deep burgundy, blush and all the hues in between. The design doesn't need to be fussy – keeping it simple will add to the chicness of your styling.
Candlelight
Add some royal elegance by including grand golden candelabra to the length of the top table. This will cast some beautiful light over the newlyweds and their closest family. Use lots of glass and candles to enhance the romantic atmosphere and luster in the room. Place candles in different glass votives at the base of the candelabra.
Cutlery and Glasses
Include some additional grandure in all the detailing and use gold cutlery and fine crystal glasses.
Chairs
To finish the look, add some décor to your chairs using lace or gold organza. This looks stunning teamed with limewashed chiavari chairs.
If you're embracing the royal wedding look, think elegance but remember to add touches of your own personality to the styling. Your wedding day should still reflect you as a couple.
If you want to know more about outdoor weddings, please click this: How many tables need for a wedding