The Ultimate Honeymoon Destination: Turks & Caicos
7 Reasons Why Turks & Caicos Is The Ultimate Honeymoon Destination
Why Choose Turks & Caicos for your Honeymoon?
With turquoise waters, beautiful reefs, and all the tranquility you can ask for, couples planning a honeymoon in Turks & Caicos are in for the trip of a lifetime. This destination is made up of a total of 40 islands with some being completely uninhabited. Endless beaches and majestic resorts mean there is something for everyone couple that visits.
Here are 7 reasons why we think this magical corner of the world is the ultimate honeymoon location.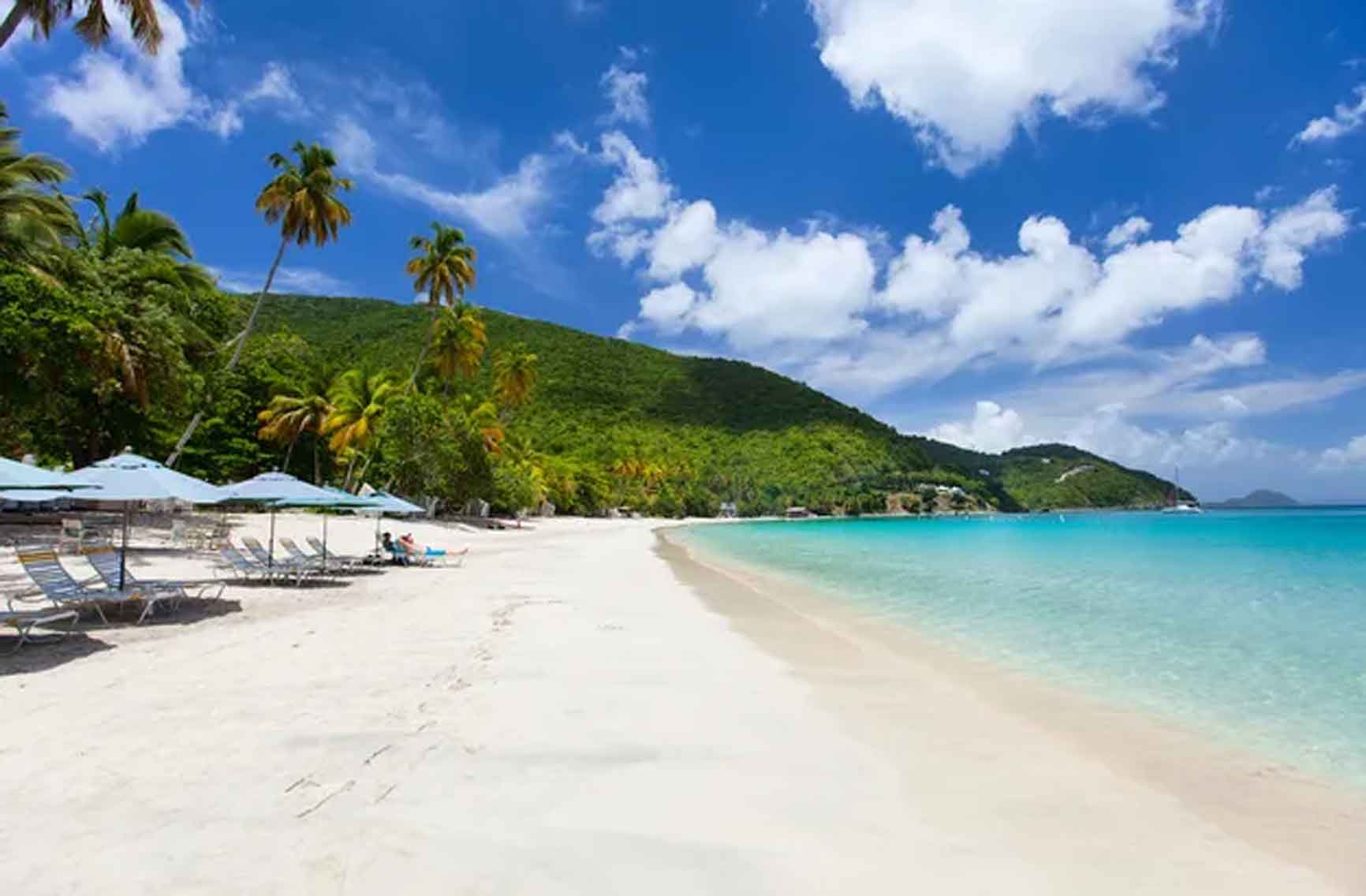 Beautiful tropical beach with palm trees, white sand, turquoise ocean water and blue sky at Tortola, British Virgin Islands in Caribbean
1. The Beaches and Harbors
White sand beaches, caves, limestone cliffs. Do we have your attention yet? Some of the worlds most coveted beaches dot the Turks & Caicos shorelines and your honeymoon is the perfect time to explore them.
Grace Bay Beach
Protected by a barrier reef, Grace Bay Beach is frequently listed as one of the most beautiful beaches in the world. The boardwalk is filled with shops and allows cruise passengers easy access from the port. Divers love this beach because of the snorkeling and scuba diving sites that are available. In spite of all the activity surrounding the beach, it is rarely overcrowded – which makes it even more appealing.
Mudjin Harbor
For couples who are more adventurous at heart, Mudjin Harbor located in Middle Caicos is home to some of the most amazing landscapes in the region. The main way to gain access to the beach is through Dragon Cay. The limestone cliffs and the caves are just begging to be explored so be prepared to spend hours navigating the terrain and discovering it's beauty.
Half Moon Bay
If Iguanas are your thing then Half Moon Bay is where you want to visit! This popular island has something for everyone with it's sheltered lagoon, gorgeous beaches, and low limestone cliffs. The island is easily accessible by boat, kayak or paddle boarding. Once you get there you will quickly see why its a favorite!
2. The Resorts
Aside from catching rays on the beach, your resort is where you will be spending the bulk of your time.
The Tuscany
Tucked away on Grace Bay, The Tuscany is the perfect resort for couples looking to disconnect from a fast paced life and spend time in a more relaxed setting. The units are similar to villas with signature red roof tiles and bougainvillea lined walkways. They are designed to feel like home away from home with their full kitchens and luxurious master bedrooms. All guests get direct access to the beach and can even order a private chef on the nights they want to just "stay in."
Blue Haven Resort
If an all inclusive stay is on your list, then you definitely want to check out the Blue Haven Resort. The direct ocean views of the buildings are just one of the many perks of being a guest. This gorgeous property is filled to the brim with all the amenities you could dream of like unlimited beverages, meals, all-inclusive access to it's sister resorts and access to snorkeling gear and other sporting equipment.
Royal West Indies Resort
One of the most well-known resorts in Turks & Caicos is the Royal West Indies Resort. This resort is exceptionally special because each room is a suite. Guests can order in room spa service, grab a book from the well stocked library and enjoy some of the local cuisines at the Pelican Bay Restaurant. Elopements and destination weddings are also frequently held on premises.
3. The Cuisine
Looking to take your culinary experiences to the next level as a newlywed couple? After all, this is a brand-new journey! The Turks & Caicos Islands have you covered with their local delicacies and inspired dishes. Many of the resorts have world class chefs preparing their meals, so an award winning dining experience is easier to come by than you think.
The food and dining experience on the islands is second to none. With a wide variety of tropical flavors and local seafood, there is something for every palette. Many of the signature dishes in the restaurants involve conch. Whether fried or eaten raw in a salad, locals and guests enjoy this dish on the regular!
4. Romantic Excursions
One thing we can guarantee, there is no shortage of romantic getaways and excursions for couples to enjoy. Whether you are looking for a luxurious couples massage or just want to unwind on one the secluded beaches, you will be sure to find something that will keep you both happy and relaxed as you take in your newlywed bliss.
What our favorite romantic excursion? Horseback riding on the beach of course! Many of the resorts will happily arrange this experience for you or point you in the right direction, all you need to do is ask.
5. The Culture
What's a honeymoon without a little history lesson? Similar to the Bahamas, the culture on the island is rooted in history. Because of this, there are so many amazing sites you can explore as a couple and learn about how the islands became what they are today. The perfect place to start is the National Museum in Grand Turk.
Today, many of the local residents have shifted their focus to supporting local wildlife, maintaining the pristine beaches, and protecting the delicate reefs we have all come to enjoy.
6. Entertainment
To ensure you have the trip of a lifetime, the islands are filled with different types of entertainment! They have everything from casinos to performing arts theaters and even bonfires for the more laid-back guests. You can completely fill your days with non-stop entertainment or you can just take it easy and kick back. The choice is yours!
7. Sunrises & Sunsets
We really feel like there is literally NOTHING like a Turks & Caicos sunrise and sunset! In fact, they are so amazing they get their own dedicated spot on this list. There are few words we can say outside of begging you to go and experience them for yourselves!
The islands do have activities planned so that you can enjoy them. In the mornings, you can join in on sunrise yoga or fitness classes. There are also photographers you can hire to capture your honeymoon photos during the magical golden hour of light! There are also sunset cruises where you can get a front-row seat of the sun setting over the horizon.
If you want to know more about outdoor weddings, please click this:  Planning a Destination Wedding