Best wedding dates for 2024
When it comes to picking wedding dates, the sky's the limit. In picking your date though, you might find it fun to associate your special day with a holiday, occasion, or numerical date that is special to you and your sweetie. From lucky holidays like New Year's Day to special days like National Pet Day (4.11.24), there are so many dates to choose from that can make your day of 'I Dos' even more special! We've compiled the best dates, celebrations, and even full moon dates to help you decide on your perfect date.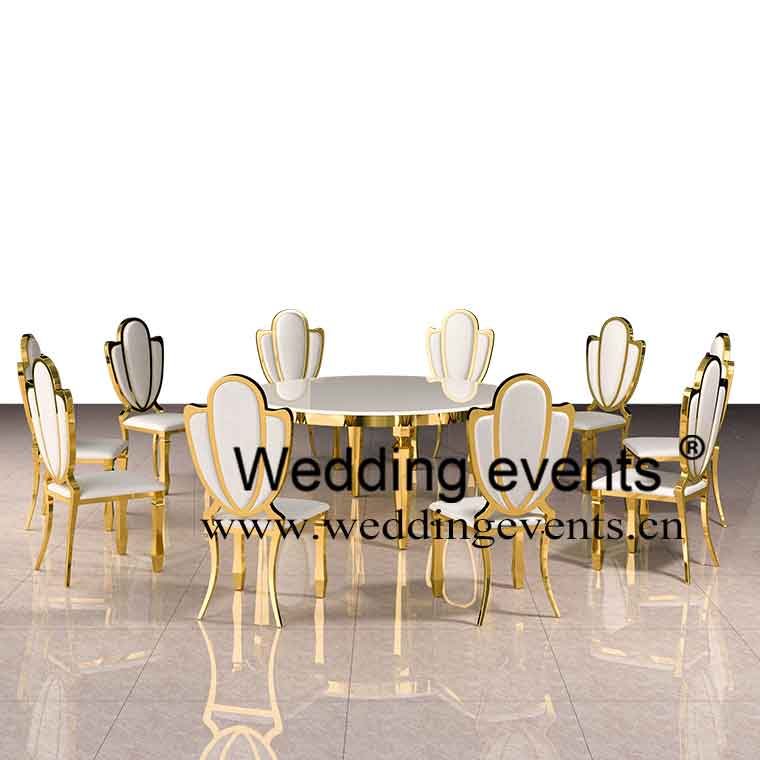 JANUARY
January is a great time for celebrating new beginnings and renewal, that's why New Year's Day is such a popular holiday for weddings. With the brisk temperatures of this month, winter-themed weddings are a huge hit. For brides, you can warm up with a cozy-yet-chic faux fur shrug to compliment your dress. If you're opting for an alfresco ceremony, go the extra mile for your guests and keep them warm with cozy blankets and opt for venues with fireplaces or firepits. Top off the celebration with additions like a hot cocoa bar (yes, we can do that!) or add hot toddies to your cocktail menu. Cozy times await!
Florists love this month for floral arrangements that include tulips, amaryllis, white gardenias, classic red or white roses, and beautiful purple delphimiums. If you're going for a chic new year's look, pair wedding colors of black, white, and gold together for a classic look, and add white roses or gardenias to your floral selection.
HOLIDAYS: New Year's Day (Monday, January 1); Cuddle Up Day (Saturday, January 6); Martin Luther King Jr. Day (Monday, January 15)
LUCKY DAYS: Tuesday, January 2; Saturday, January 20; Thursday, January 25; Saturday, January 27; Sunday, January 28
CUTE DAYS: Monday, January 1 (1.1.24); Wednesday, January 24 (1.24.24)
FULL MOON: Thursday, January 25
FEBRUARY
Moving into February, you can still keep with a cozy winter-weather theme or use vibrant colors from holidays like Valentine's Day or Mardis Gras to add some pop to your color palette. If you choose to celebrate with all of the fun and flair of New Orleans, purple, yellow, green, and gold can bring the party to life. Add party beads and hats as party favors and go a little extra with a specialty King Cake to go with your main wedding cake. As the French say, "Laissez les bons temps rouler!"
This year is also a leap year! Opt for February 29 for an incredibly unique wedding day that very few others can have. If you'd prefer to celebrate on another easy-to-remember date, go for Saturday, February 4 (2.4.24) or Saturday, February 24 (2.24.24). February 24 also happens to be a full moon and according to Greek mythology, this is one of the luckiest times in the month to get married.
HOLIDAYS: Shrove Tuesday/Mardis Gras (Tuesday, February 13); Valentine's Day (Wednesday, February 14); President's Day (Monday, February, 19); Leap Year (Thursday, February 29
LUCKY DAYS: Friday, February 9; Saturday, February 24
CUTE DAYS: Sunday, February 4 (2.4.24); Saturday, February 24 (2.24.24)
FULL MOON: Saturday, February 24
MARCH
March of 2024 is jam-packed with celebrations with St. Patrick's Day, Holi, and Easter all in one month. Pay tribute to your Irish roots with a St. Patty's celebration on Sunday the 17th and add some fun green drinks to your menu.
Embrace the arrival of Spring with grand floral arrangements for your ceremony and reception. Yellow, red, pink, purple… you name it, March and Springtime, in general, are very popular times for pastel color palettes. Keep the rest of your decor simple and let your floral arrangements do the talking during your nuptials.
HOLIDAYS: Daylight Savings Time (Sunday, March 10); St. Patrick's Day (Sunday, March 17); First Day of Spring (Tuesday, March 19); Palm Sunday (Sunday, March 24); Holi (Monday, March 25); Easter (Sunday, March 31)
LUCKY DAYS: Friday, March 1; Saturday, March 2; Friday, March 15; Saturday, March 30
CUTE DAYS: Sunday, March 24 (3.24.24)
FULL MOON: Monday, March 25
APRIL
As spring moves on, months like April and May are especially popular wedding times! This month, similar to February, has some fun wedding date options to choose from with Saturday, April 20 (4.20.24) and Wednesday, April 24 (4.24.24).
If you're a pet parent, be sure to incorporate your pet into your day of festivities. If they're good pupper who can make it through the ceremony, then we want to see your cute doggo! Are you more of a cat person? No worries, we know not every cat is leash friendly. You can still bring their presence to your celebration with specialty cake toppers and decorative additions that keep their spirit with you during your day to remember.
HOLIDAYS: April Fool's Day (Monday, April 1); National Pet Day (Thursday, April 11); Earth Day (Monday, April 22)
LUCKY DAYS: Tuesday, April 2; Saturday, April 20; Wednesday, April 24
CUTE DAYS: Saturday, April 20 (4.20.2024); Wednesday, April 24 (4.24.24)
FULL MOON: Tuesday, April 23
MAY
From Star Wars Day to the start of summer festivities with Memorial Day, May is a fun month to marry. We loved themed weddings and have had a few amazing Star Wars celebrations take place at our amazing venues. Go all out with light sabers, Leia buns, and your names projected on the wall Star Wars style, or keep it simple with a flowy white dress, gold accents, and a themed cake. If you'd prefer a date later in May, opt for Memorial Day weekend and enjoy a weekend full of festivities with your friends and family.
The bright and vibrant colors of spring continue into May with green, red, pink, purple, and yellow making an appearance in floral arrangements. With the warmer weather, even more flowers are available for your ceremony and reception florals. Go bohemian with gorgeous snapdragons, romantic with lilacs, or tropical with orchids – there are so many options to choose from during May.
HOLIDAYS: Star Wars Day (Saturday, May 4); Mother's Day (Sunday, May 12); Memorial Day (Monday, May 27)
LUCKY DAYS: Friday, May 3; Thursday, May 9; Friday, May 31
CUTE DAYS: Friday, May 24 (5.24.24)
FULL MOON: Thursday, May 23
JUNE
June is our most popular wedding month, and it's easy to see why with summer on the horizon. Regions like Colorado, New Hampshire, and Northern California are especially sought-after destinations during this month with such lush greenery and bright blue skies to accompany outdoor celebrations.
In addition to the beauty of the month, June is also National Pride Month for the LGBTQ+ community and we love to see these incredible celebrations of love. Style your same-sex ceremony with rainbow colors – from attire to florals to your wedding cake, there are so many ways to incorporate these vibrant tones into your ceremony to celebrate your amazing day.
HOLIDAYS: Pride Month (Saturday, June 1 – Sunday, June 30); Father's Day (Sunday, June 16); Juneteenth (Wednesday, June 19); Start of Summer (Thursday, June 20
LUCKY DAYS: Saturday, June 1; Friday, June 14; Wednesday, June 19; Sunday, June 30
CUTE DAYS: Monday, June 24 (6.24.24)
FULL MOON: Friday, June 21
JULY
Did you know that July not only has Independence Day but also National Ice Cream Day? Incorporate all of the feel of summer into your July wedding date with everything from strawberries to watermelons (did someone say Watermelon Mojito?) to ice cream, craft these delightful details into your reception, we're happy to help you with options!
HOLIDAYS: Independence Day (Thursday, July 4); International Kissing Day (Saturday, July 6); National Ice Cream Day (Sunday, July 21)
LUCKY DAYS: Monday, July 1; Thursday, June 11; Sunday, June 21; Sunday, June 28
CUTE DAYS: Wednesday, July 24 (7.24.24)
FULL MOON: Sunday, July 21
AUGUST
August stands as the last official full month of summer and with 13 hour-long days, outdoor celebrations are a must in August. In addition to the long days, August is also known for National Smores Day, yum! Incorporate a smores bar into your reception as an additional treat for guests. With National Dog Day at the end of the month, you may decide to incorporate your favorite pupper into your wedding ceremony – flower dogs are a thing, and we definitely think they should wag their tail and petals down the aisle for your special day.
HOLIDAYS: International Beer Day (Friday, August 2); National Smores Day (Saturday, August 10); National Dog Day (Monday, August 26)
LUCKY DAYS: Thursday, August 1; Friday, August 2; Wednesday, August 2
CUTE DAYS: Saturday, August 24 (8.24.24)
FULL MOON: Monday, August 19
SEPTEMBER
The first Friday the 13th of 2024 happens in September, right on the heels of Fall. If Friday the 13th is a special day for you, be sure to book this date or the next option, December 13th, before they're snatched up. Pair your Friday the 13th with macabre-inspired decor and let your love of fall and Halloween blossom.
Go for the warmer aspects of late summer and early fall with green, yellow, and orange-based color palettes. The end of summer is an especially popular time to incorporate sunflowers into wedding decor and floral arrangements in your color palette.
HOLIDAYS: Labor Day (Monday, September 2, 2024); National Beer Lovers Day (Saturday, September 7); Friday the 13th (Friday, September 13); Start of Fall (Sunday, September 22)
LUCKY DAYS: Sunday, September 1; Thursday, September 19; Friday, September 27
CUTE DAYS: Tuesday, September 24 (9.24.24)
FULL MOON: Tuesday, September 17 (Supermoon)
OCTOBER
Fall vibes and pumpkin spice lattes are right at home with October wedding dates. Similar to September, color palettes this month incorporate yellow and orange hues but often add more burnt tones of orange, red, and brown to the scheme.
October is also a popular choice for Halloween lovers, for obvious reasons. Macabre themes, pumpkin decor, and spooky vibes have made many an appearance at our various properties and we can't get enough. With a supermoon on October 17, you can achieve the ultimate Halloween theme with added additions like fog machines, dark velvet and lace attire, and moody decor.
HOLIDAYS: Indigenous Peoples' Day (Monday, October 14); Halloween (Thursday, October 31); Diwali (Thursday, October 31)
LUCKY DAYS: Wednesday, October 2; Saturday, October 12; Saturday, October 26
CUTE DAYS: Thursday, October 24 (10.24.24)
FULL MOON: Thursday, October 17 (Supermoon)
NOVEMBER
Fall festivities continue into November and the additional chill in the air sets the stage for cozy additions to any outdoor wedding. Add on a hot apple cider bar for a delicious drink option or incorporate plaid throws into your attire for post-ceremony comfort.
With Dia de Los Muertos at the start of the month and Thanksgiving near the end, this month is an ideal time to celebrate and join with family and friends. Continue your Day of the Dead celebrations by adding marigolds, pan dulces, flower crowns, and a family altar to remember those who are gone during your festivities with your family.
Additionally, Veterans Day takes place in the middle of the month so celebrate your wedding over the long weekend or include a special tribute table/presentation if you are a proud member of a military family.
HOLIDAYS: Dia de Los Muertos (Friday, November 1 – Saturday, November 2); Daylight Savings Time Ends (Sunday, November 3); Veterans Day (Monday, November 11); Thanksgiving (Thursday, November 28)
LUCKY DAYS: Friday, November 1; Saturday, November 2; Thursday, November 14; Saturday, November 16; Wednesday, November 27
CUTE DAYS: Sunday, November 24 (11.24.24)
FULL MOON: Friday, November 15
DECEMBER
Coming off of the family festivities of November, December is an equally great time to share your love with friends and family. With so many holidays in this month including Christmas, New Year's Eve, and Hanukkah, there's so much celebrating to do! Keep with holiday vibes at your own wedding by adding holiday decor inspired by winter, snow, and deep red tones.
The month of December also provides the perfect feel for vibrant jewel tones for wedding color palettes. Go all out with varying bridesmaid/men attire colors and florals. This time of the month, similar to January, is also ideal for classic color pairings such as champagne, black, white, and silver.
HOLIDAYS: Christmas (Wednesday, December 25); New Year's Eve (Tuesday, December 31); Friday the 13th (Friday, December 13)
LUCKY DAYS: Sunday, December 1; Monday, December 9; Tuesday, December 17
CUTE DAYS: Thursday, December 12 (12.12.24); Tuesday, December 24 (12.24.24)
FULL MOON: Sunday, December 15
Call or text us today to find your perfect furniture before your wedding date is booked. Our event experts at Weddings Events can help find you the best furniture to match your wedding style with your desired date available. We can't wait to help you set the date for 'I do!'
If you want to know more about outdoor weddings, please click this:  The Ultimate Honeymoon Destination: Turks & Caicos