Transparent Plastic Chairs
Transparent plastic chairs have something of a bad reputation. The phrase alone probably makes you think of cheapie outdoor furniture or maybe something made for a little kid. But high-end, durable plastics have become a darling of modern design, particularly chairs made of clear polycarbonate. A spiritual successor to the white plastic chairs iconic of a mid-century modern design, these transparent chairs have a more contemporary feel and work well in a variety of different locations.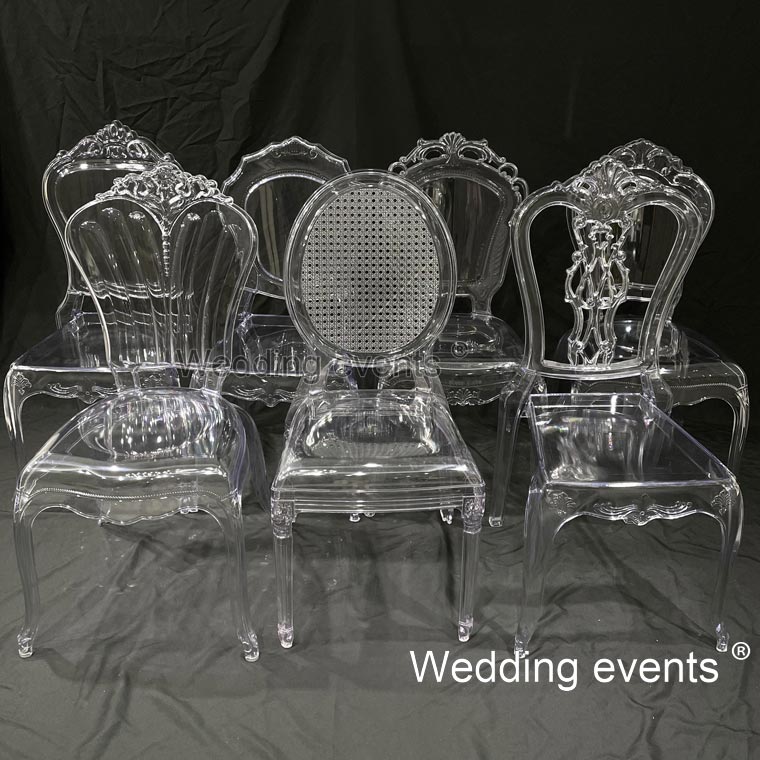 Most of the time, when you see transparent chairs, it's in a dining room. Many clear chairs are styled after traditional dining chairs, with high backs and sometimes simple arms. But depending on your other decor choices, the same chairs can have a very different appearance. Paired with sculptural white elements and high-end accents (like a chandelier), clear chairs take on a crystalline quality. Particularly if you set them up to catch the light, the chair's clearness becomes a very eye-catching and elegant feature.
But while clear chairs are a modern choice, you don't have to pair them with hard lines and minimalist designs. In fact, they actually pair surprisingly well with a more relaxed, natural decor. Simple wood tables and wood floors compliment transparent chairs quite nicely. With clear chairs, there's nothing to hide all that wood; together, they create a very open, airy, natural feel. They're also great for showing off a dining table with a decorative base that normal chairs might hide.
Outside the dining room, though, transparent chairs are popular largely for the fact that they're see-through. For example, you'll see a lot of clear chairs as part of a breakfast nook or banquette. This isn't not for the style of the chair itself, but because they keep the space from looking too crowded. After all, it's as easy to look through a clear char as it is to look at one. For a nook-type space, in particular, that makes it possible to have more seating without it feeling like it intrudes on the surrounding area.
Transparent chairs are also a great pair for dressing tables or workstations in common areas of the home. If a big, bulky chair would visually block the space, a clear chair leaves it feeling open and uncluttered. If your home office is less an office and more nook, an office chair will instantly overwhelm the space. They're hard to stow away, and often big enough to block walkways. Worse, because they look so distinctly office-like, a traditional office chair will make even the nicest spot feel cubicle-like. Clear chairs are sleeker and leaner and take up less space both physically and visually.
Chairs made of polycarbonate are also incredibly durable and weather resistant, so they can even be used outside. They're harder and sturdier than the plastic outdoor chairs you're probably familiar with and are quite a bit more stylish. If you're looking to add a more modern, elegant touch to our outdoor space, this is it. It's also worth noting if you have a great view, clear chairs are vastly superior to any other kind of outdoor furniture in terms of keeping views unobstructed since you can literally look right through them.
The added durability of these plastic chairs also means they're showing up in one rather unexpected spot: the shower. Polycarbonate chairs have no problem with water; they won't warp, rust, stain, or degrade over time, which makes them the perfect candidate for a stylish shower seat. This look works especially well with a large or open shower, but can also be used in a smaller space. Since the chairs are lightweight and easy to move, they can do double duty as a vanity seat, wedding chair, dressing chair, side table, and shower seat, depending on your needs.
If you want to know more about outdoor weddings, please click this: Wedding Furniture Rental