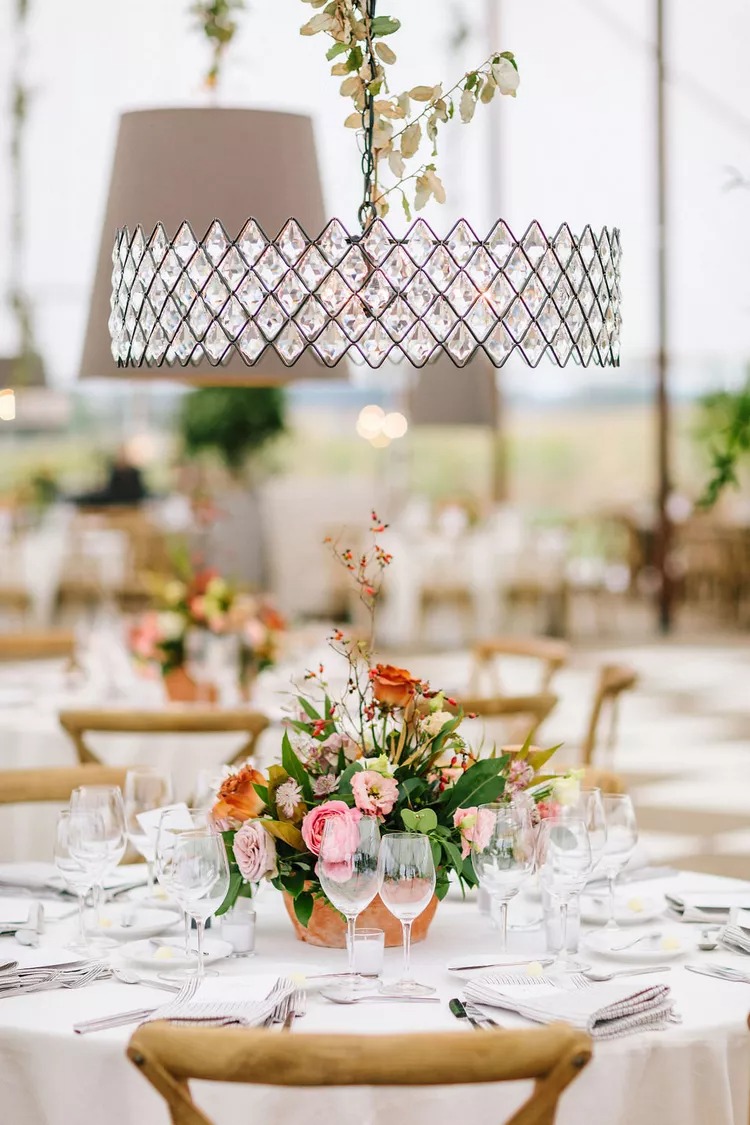 Wedding Decor Ideas-When it comes to wedding décor, one of the most fun moments to plan is your tabletops. As guests will be seated throughout dinner and toasts, this environment will be the one they interact with most—so you'll want to be sure it's an eye-catching and enjoyable experience.
If you'll be incorporating round tables into your reception, your options are pretty much endless. The classic table shape is one of the most commonly available options at venues across the country, and since it pairs beautifully with all wedding styles and chair types, you're guaranteed to find something that works for you.
In need of some initial inspiration to get those creative juices flowing? Read on for 22 of our favorite round table wedding décor ideas right now.
01 Choose Textured Linens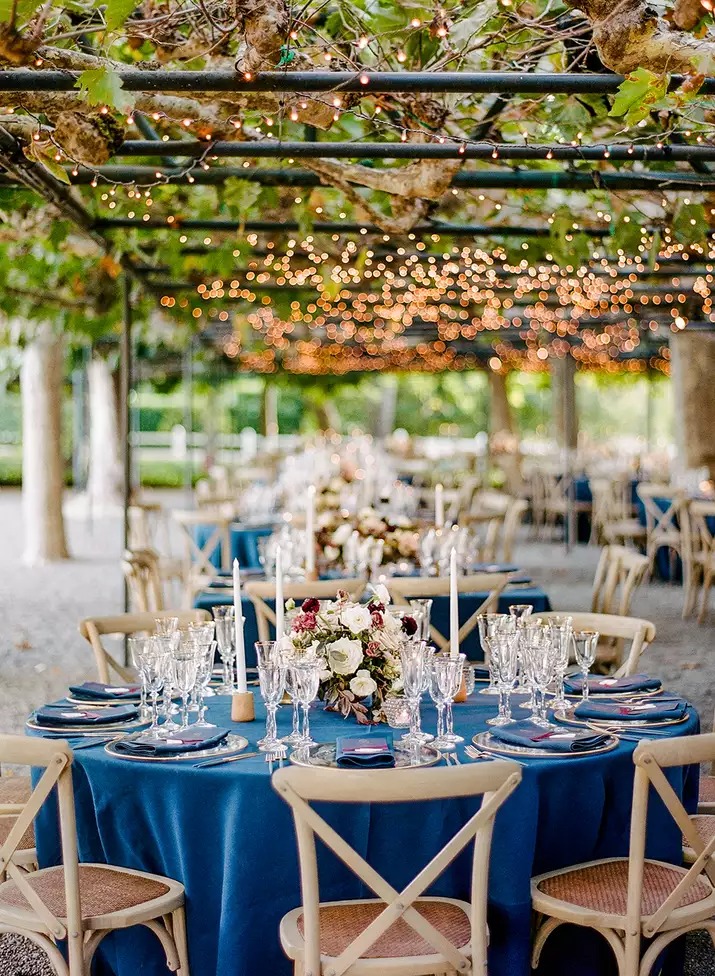 Oh-so-touchable velvet is a beautiful way to add texture and depth to your round wedding tables—especially for a fall wedding. Opt for napkins in the same hue for a coordinated look that feels especially luxe.
02 Go for an Industrial Vibe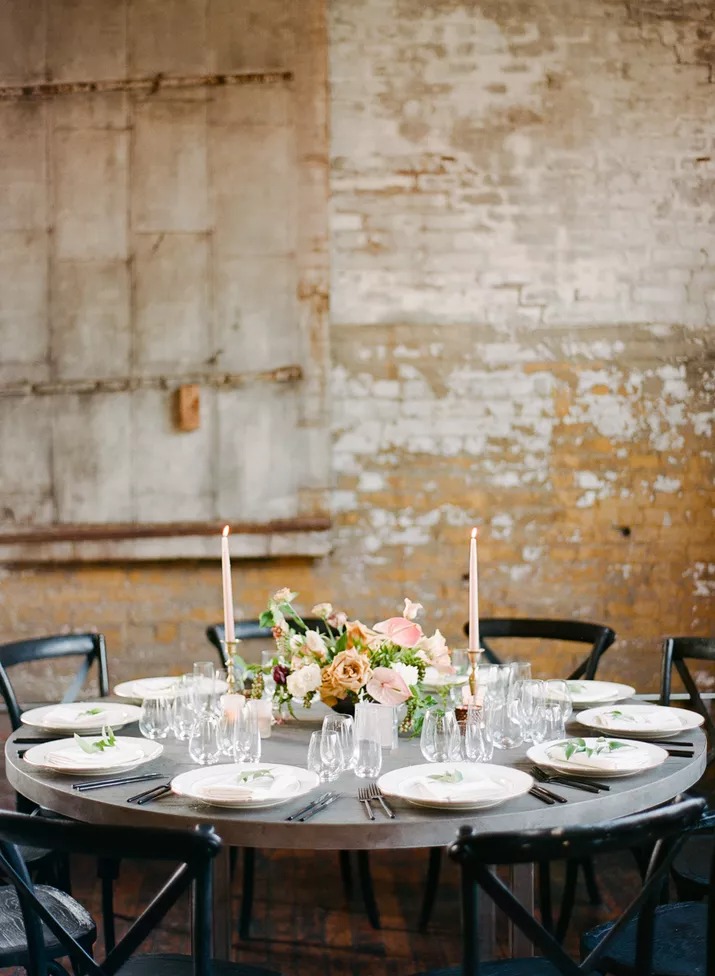 Tablecloths aren't one hundred percent necessary to achieve a formal look. By sticking with a sleek, concrete-inspired surface and pairing it with black chairs and flatware, your reception will feel fancy without looking overly opulent.
03 Plan for a Soft Palette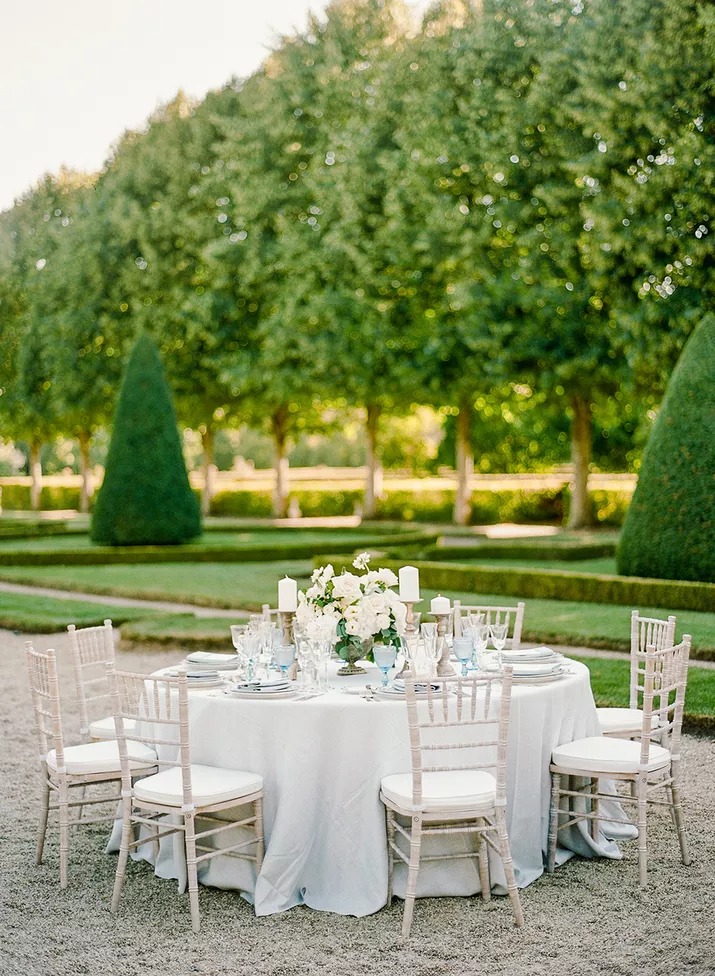 For a romantic look at a garden wedding, choose soft, muted shades in a similar color palette. Pale blues and greys are particularly beautiful for Parisian-inspired celebrations.
04 Mix and Match the Seating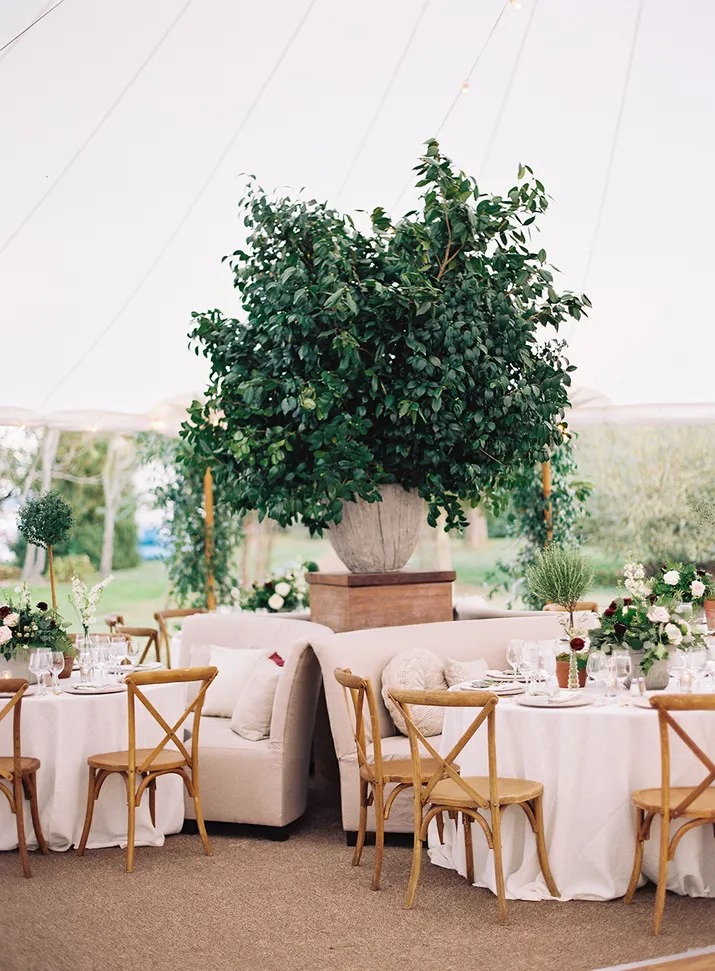 A loveseat or settee is a pretty, unexpected pop amidst cross-back chairs. Adding one in for the marrying couple is also a creative way to denote their spot of honor if they won't be sitting at a sweetheart table.
05 Add Extra-Tall Centerpieces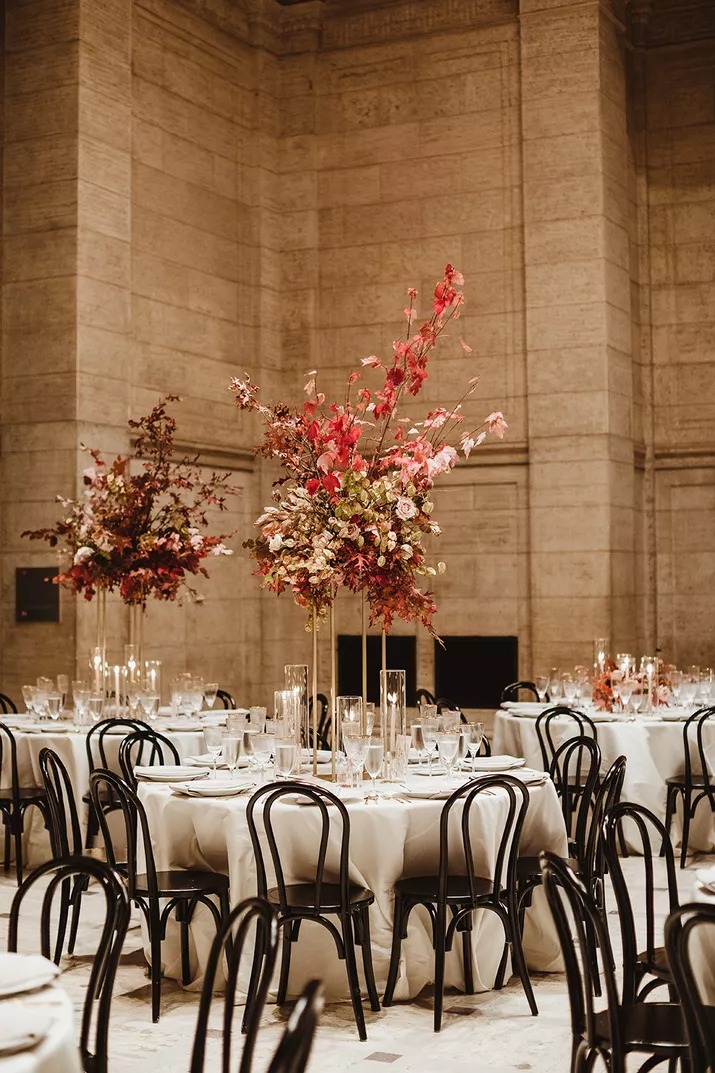 If your venue includes soaring ceilings, take advantage of the height with extra-tall centerpieces. (Added bonus: guests can easily converse through the base.) For a modern affair at an art museum, an asymmetrical design will look especially cool.
06 Accent White With Bright Colors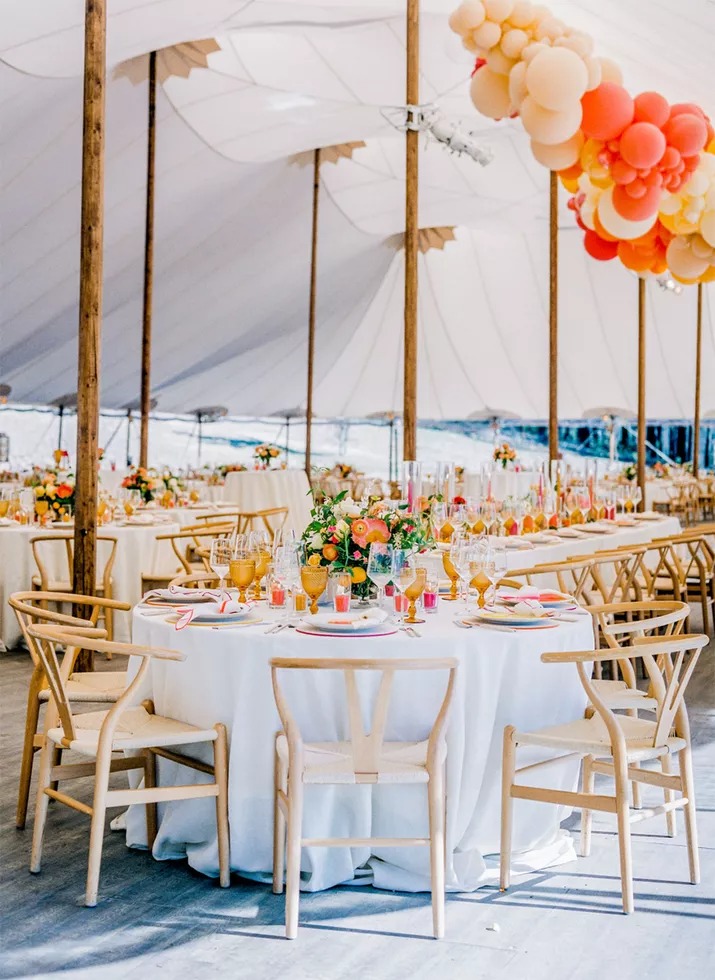 Want your wedding to skew more contemporary? Pop neon pinks and bright oranges off of stark white tablecloths, then add in wishbone chairs. The look is playful, inviting, and perfect for a summer wedding.
07 Go With Ghost Chairs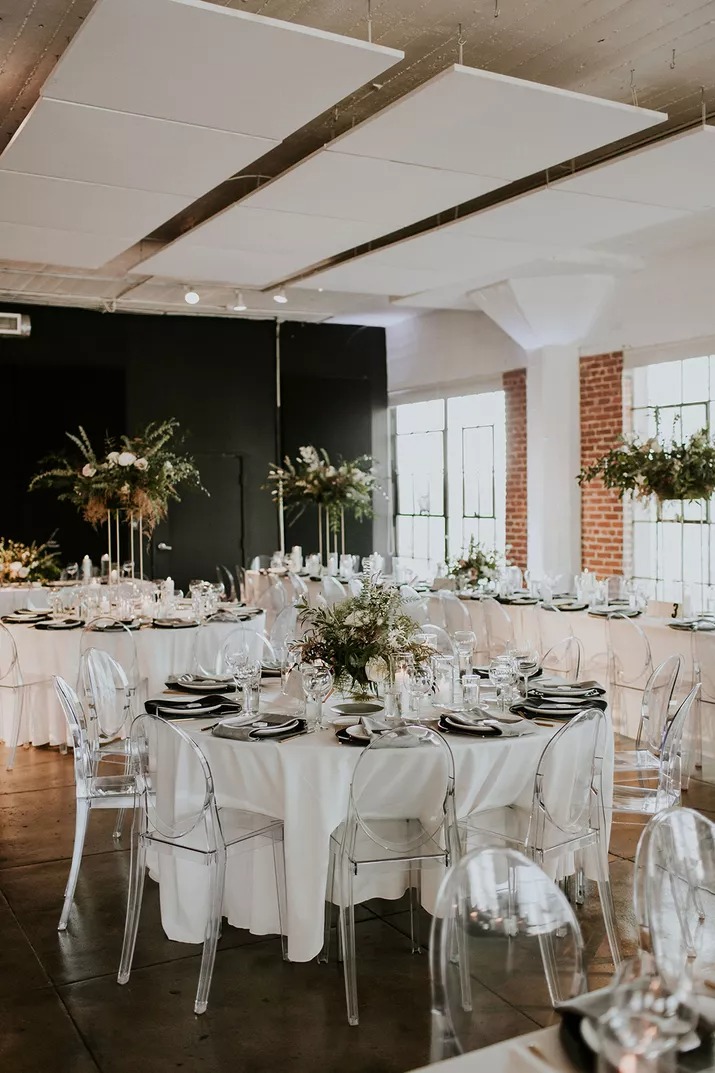 Not only do ghost chairs give the illusion of more space in a smaller room, but they also bring a certain cool factor to a more muted palette. While the chair style will likely be a rental upgrade, it's one to definitely consider splurging on if the rest of your décor is more minimalist.
08 Top With Candelabras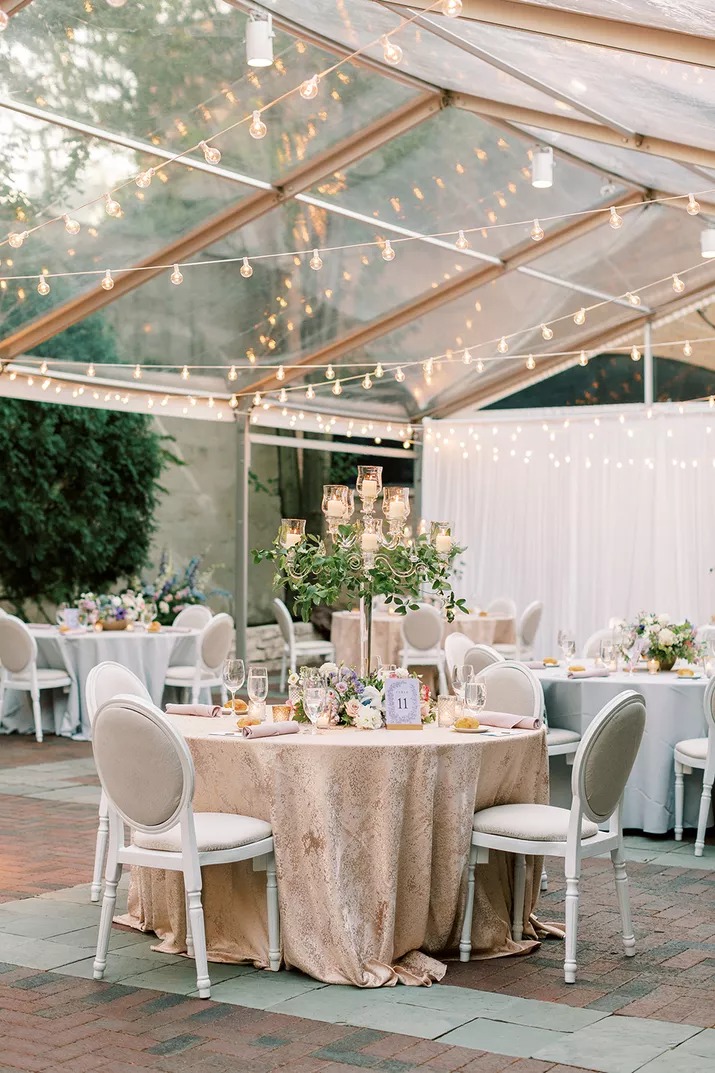 Everyone looks better under the soft glow of candlelight, and the candelabra arms reaching across the diameter of the table will emphasize its circular shapes in a visually pleasing way. To play up the romance factor, choose textured table linen in a shade of soft pink.
09 Funk Up Classic Black and White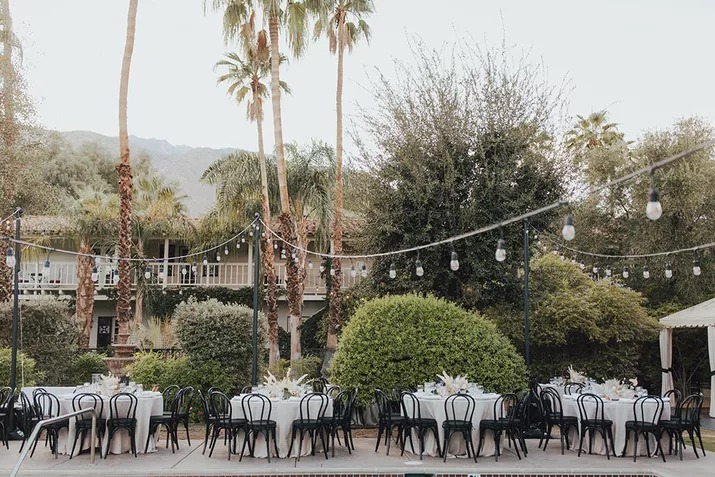 A classic black and white palette look equally at home in a ballroom wedding as it does poolside in Palm Springs. To make yours feel more cool and contemporary, choose black pads for black chairs, and top your round tables with white linens and low-sitting pampas grass arrangements.
10 Lean into Neutrals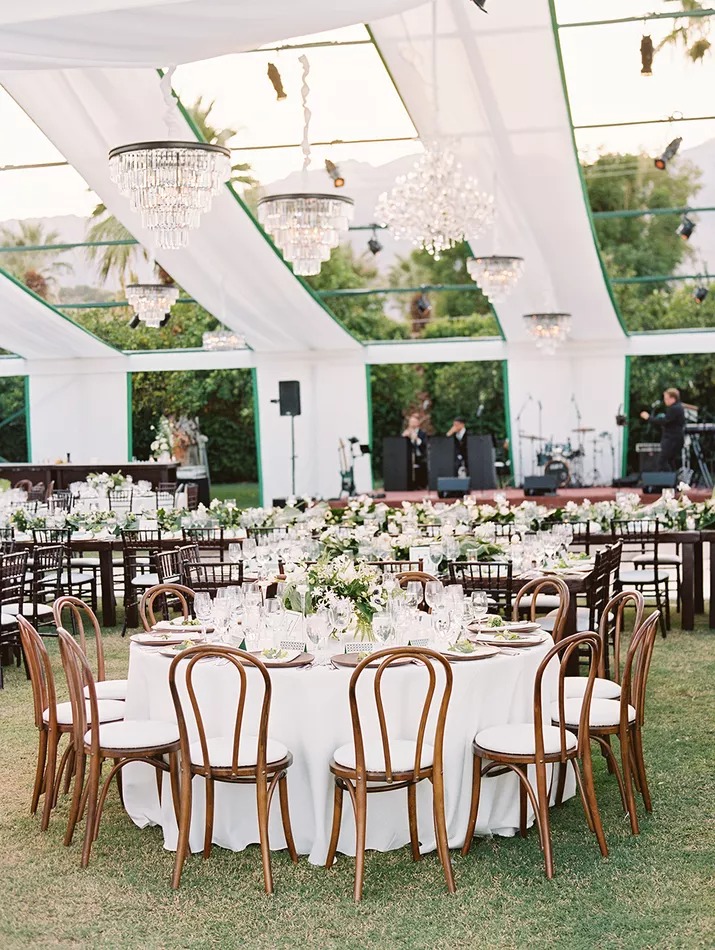 A color scheme inspired by greenery, wooden hues, and other naturally occurring elements always makes for a pretty look. Pro tip: matching your chair cushion to your table linens will minimize a more bulky seating selection.
11 Seat Everyone at the Same Table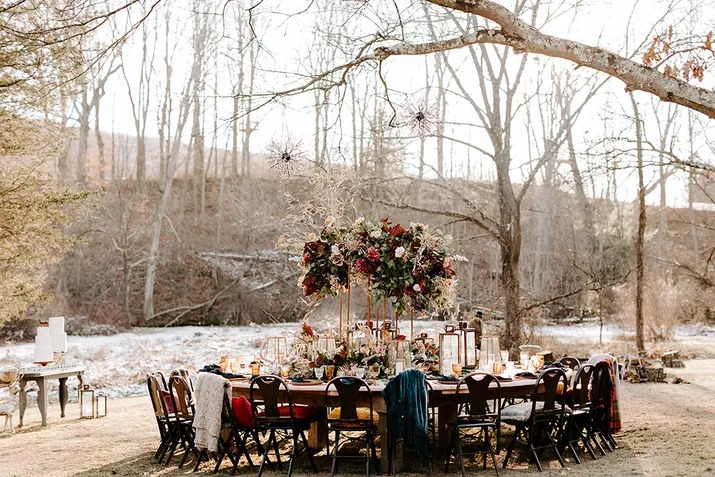 If you're planning a micro-wedding, you may be able to fit your entire guest count around one extra-large table. This is the ideal time to opt for a round table, as it will ensure that no guest feels cornered off from the action. To make the arrangement feel celebration-worthy, fill out the center with lanterns as well as high and low floral designs.
12 Mix and Match Your Tablecloths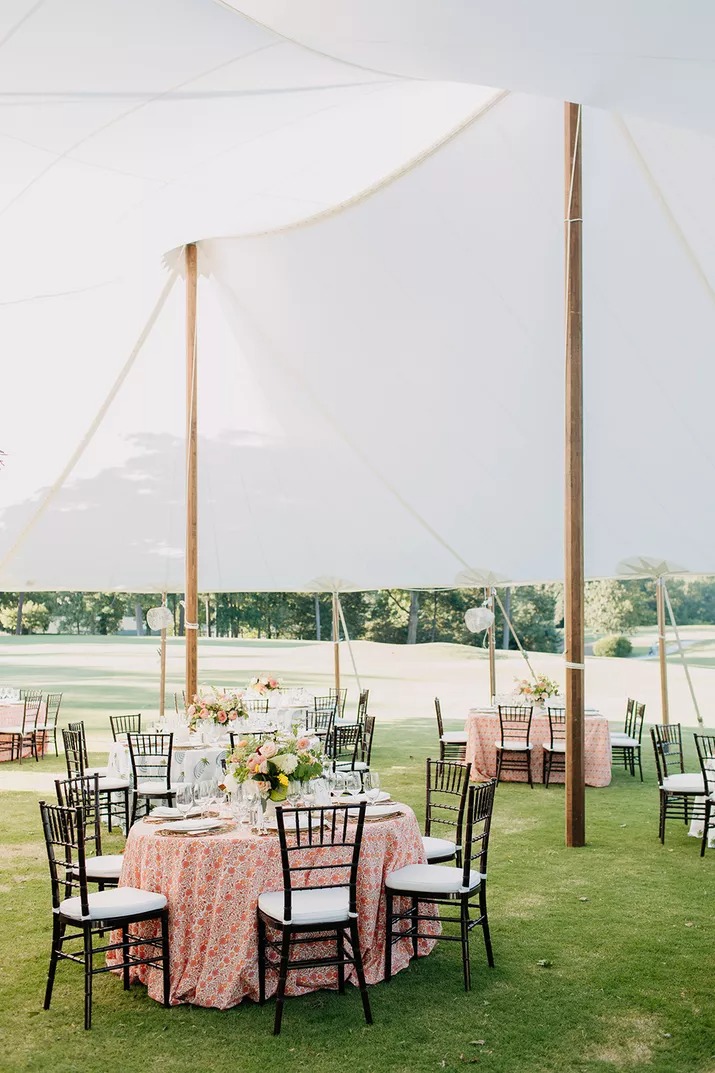 Selecting different patterned tablecloths is an easy way to pack a visual punch at your wedding reception—especially if you have a large guest count that will all be sitting at round tables. To even further diversify the look, add in some square and rectangle tables as well.
13 Drape Your Napkins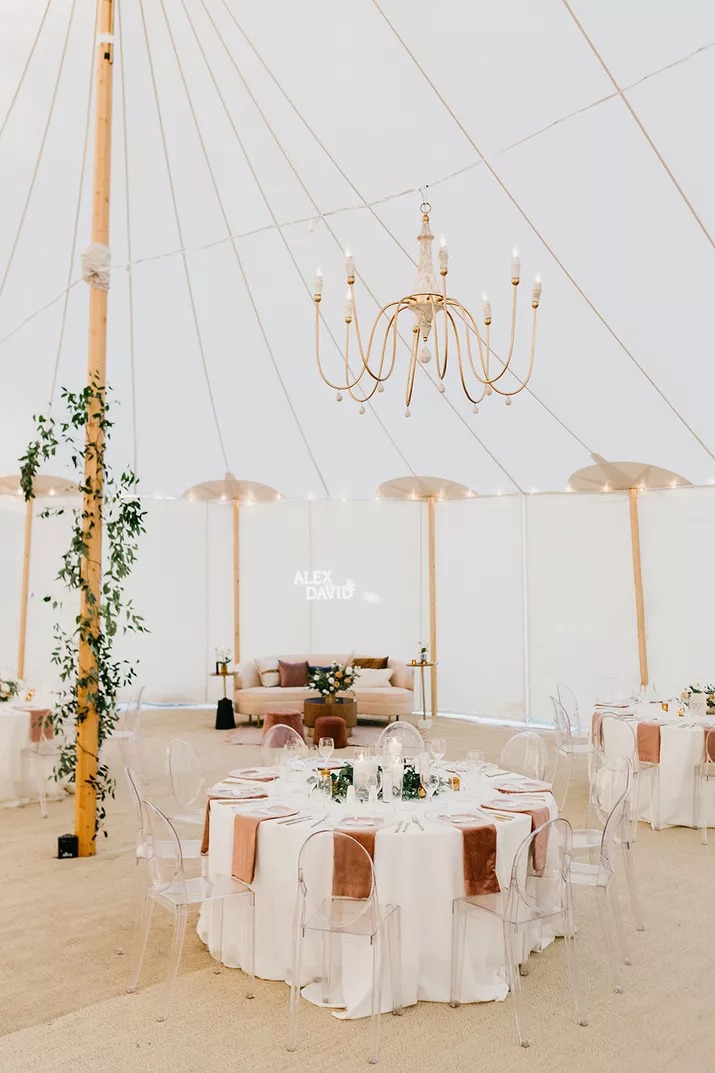 Make a monochrome palette feel multidimensional by changing up the placement of your napkins. Rather than folding them atop each plate, drape them below the plate so they hang off the table. The pop of color and texture will add visual interest to your round wedding tables.
14 Cluster Tables Around The Dance Floor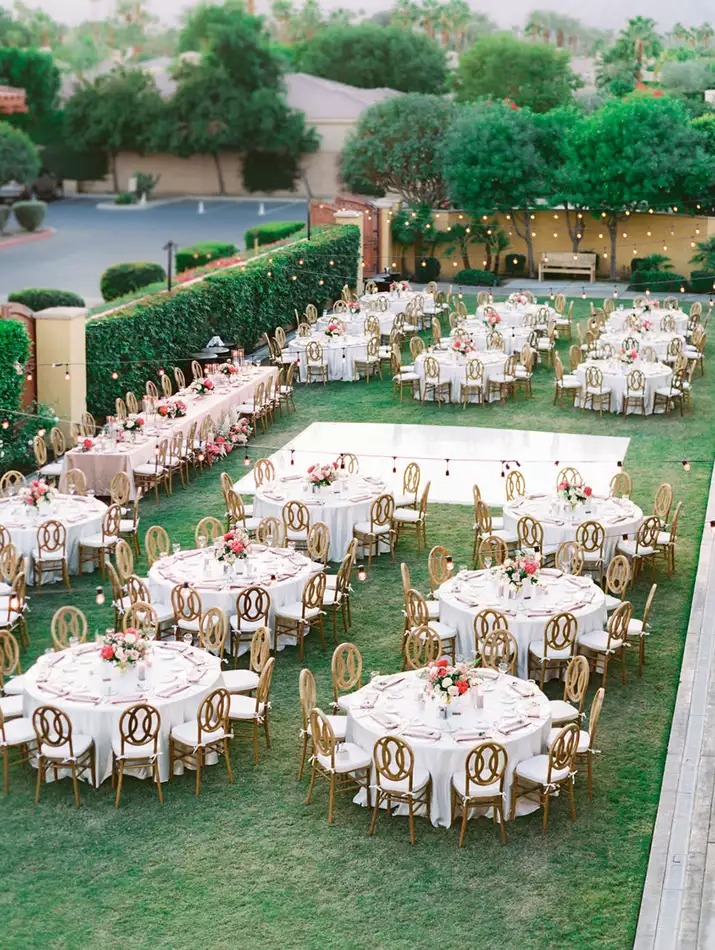 A mix of table options is key to making a large reception space feel interesting and intimate. If the dance floor will be at the center of your space, vary what goes along each side. If the head table is long and rectangular, opt for round tables along the left and right sides. This variety will add to the party mood.
15 Find Inspiration in Restaurants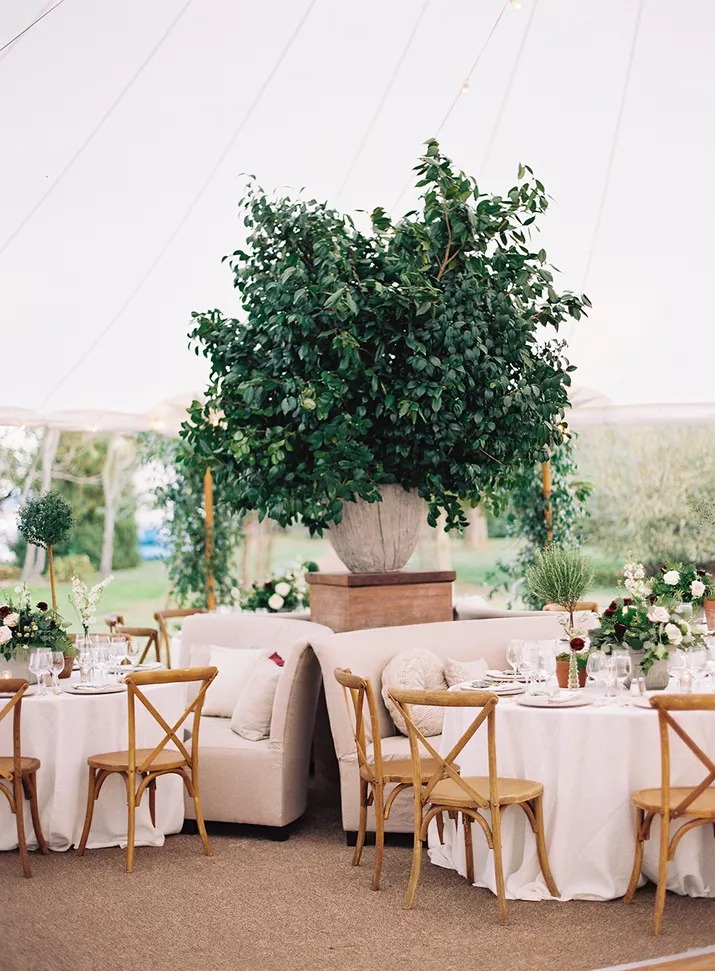 The best eateries organize tables so the dining experience feels shared by everyone in the room. By backing up four round tables to a common décor point, such as a tree or oversized floral arrangement, guests will feel close to other diners without being overcrowded.
16 Layer Up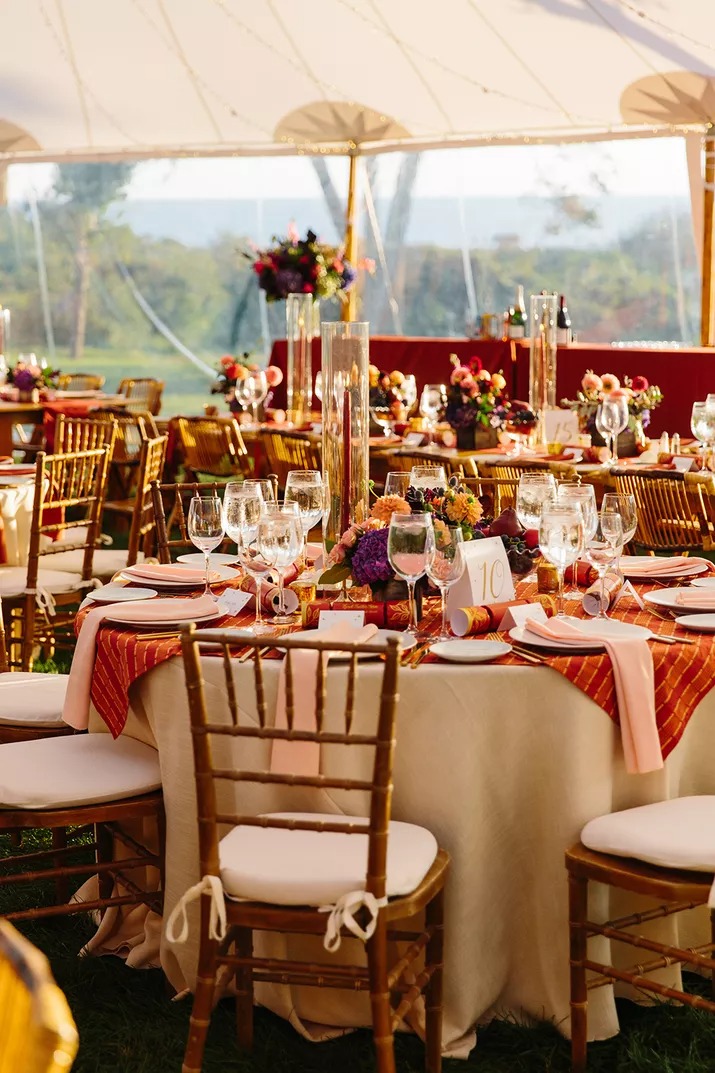 Amp up the cozy factor at a fall wedding by layering a patterned fabric over a solid tablecloth. Tall taper candles in clear glass hurricanes will further contribute to feelings of warmth.
17 Pile on the Glitz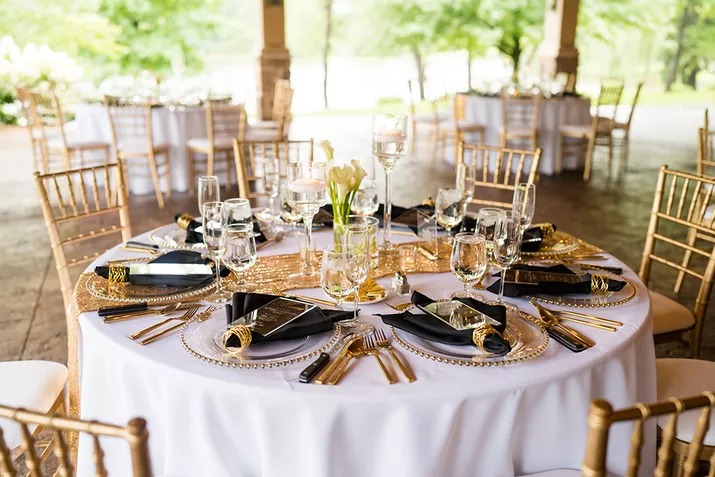 Gold details are always a pretty choice for a more formal wedding—and the more you pile on, the more glam your tables will look. By popping the metallic hue in the flatware, plate edges, napkin holders, table runner, and chairs, this table sparkles without feeling overwhelming.
18 Hang Pom-Pom Garlands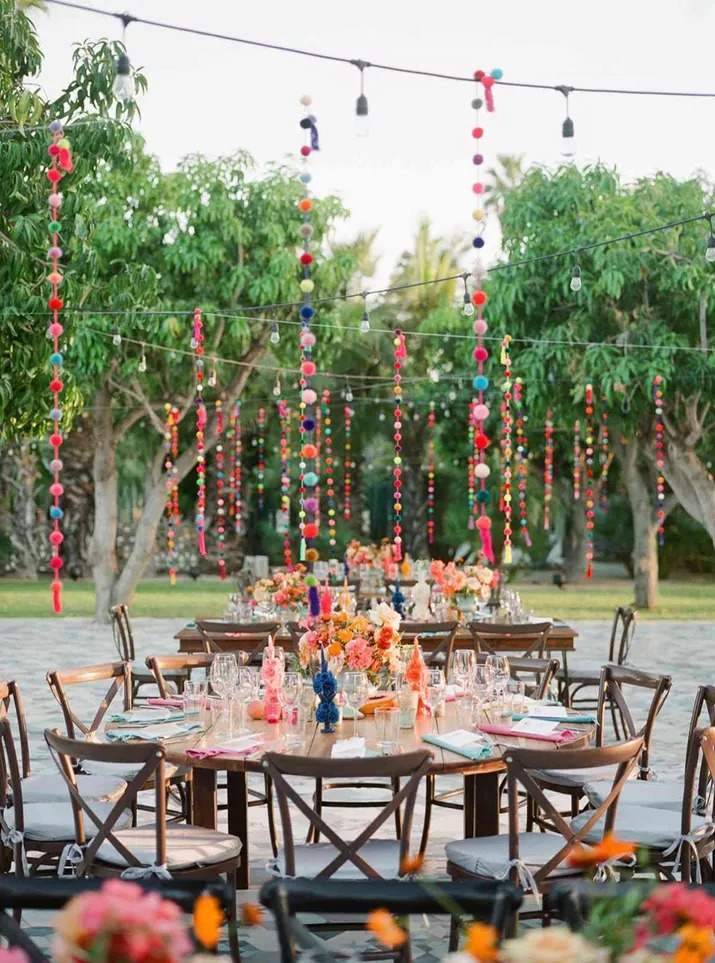 Décor moments can happen on your tables as well as above your tables. Take a cue from this vibrant celebration in San José del Cabo, Mexico and pepper pom-pom garlands between the bulbs of any hanging string lights for a festive look.
19 Play Up the Circle Motif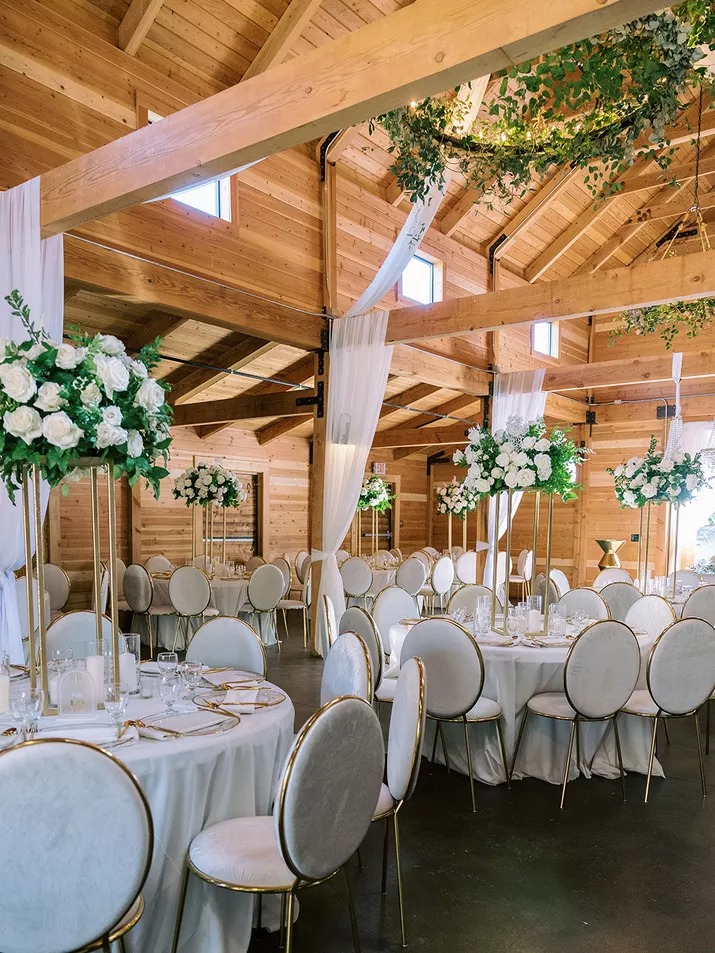 Circle tables plus circle-back chairs equal an unexpected romantic-meets-modern look for a barn wedding. To further emphasize the style consistency, we love how this reception also matched the gold-rimmed chairs to the gold-rimmed chargers.
20 Surround Yourself in Flowers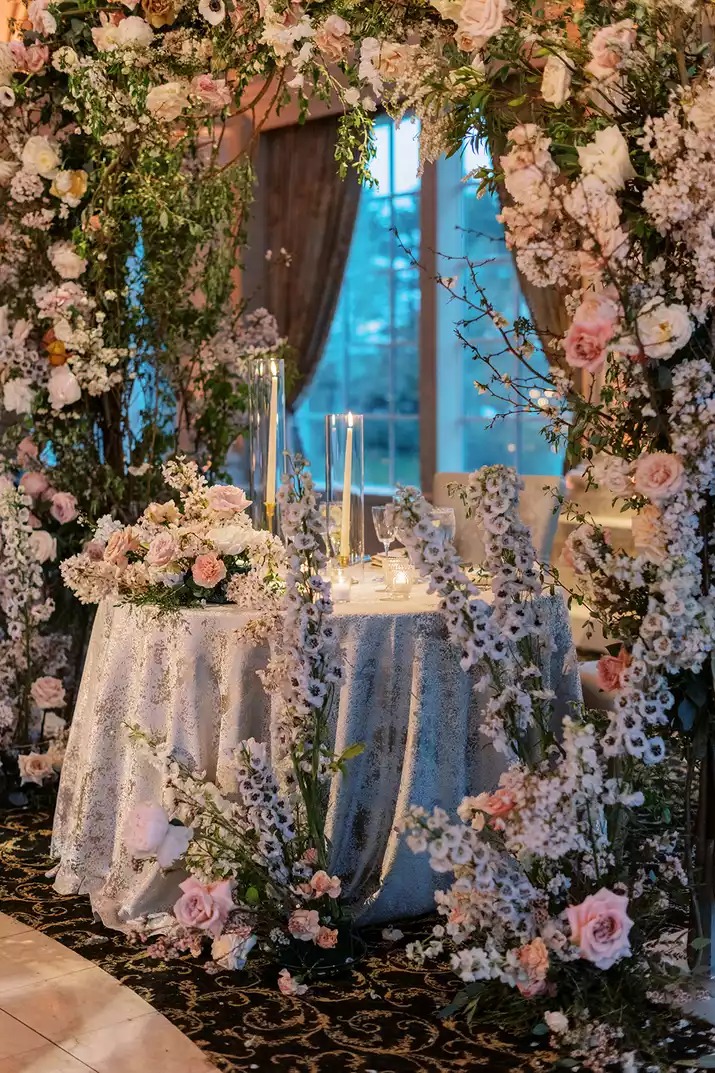 If your sweetheart table will be round, why not emphasize the shape with an arch exploding with blooms? By adding flowers both above and below, you'll create the perfect frame for guests to gaze through while all eyes are on you through the speeches and toasts.
21 Use Branches for Centerpieces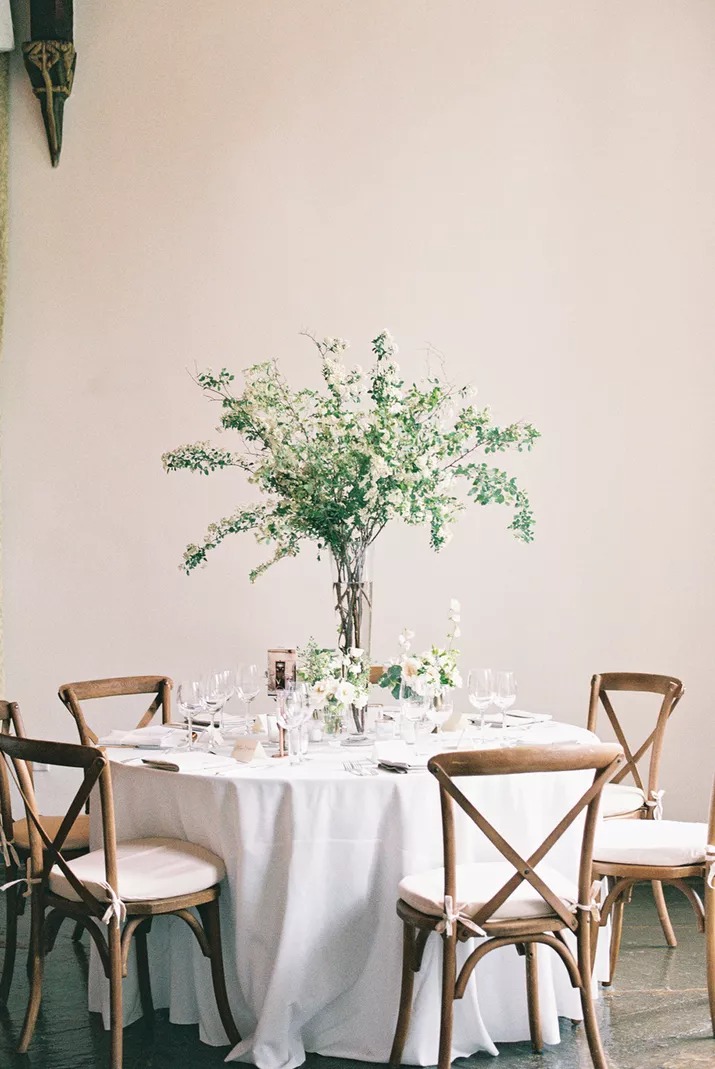 Artfully arranged clipped blooms are always a pretty choice, of course, but there's something a little more organic about a gathering of leafy branches as a centerpiece. The style is a perfect way to add height without sacrificing a full, lush look.
22 Add Interest to Your Chairs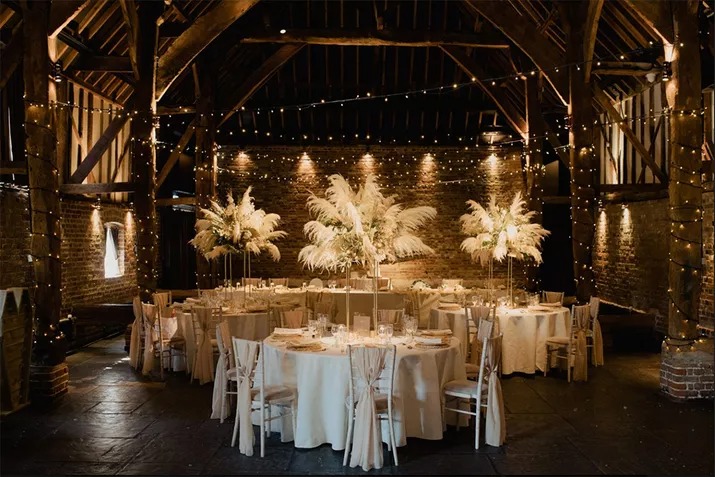 Wedding Decor Ideas-Draping fabric over the backs of your chairs is an easy way to make your wedding seating feel extra special. For a cohesive look, keep the fabric color in the same palette as the rest of your décor.
Many wedding decor ideas are so new they've yet to be added to our website.
Click on Instagram or TikTok for more product details where available or contact the team for more information about products not currently on our website.