Bar stool style guide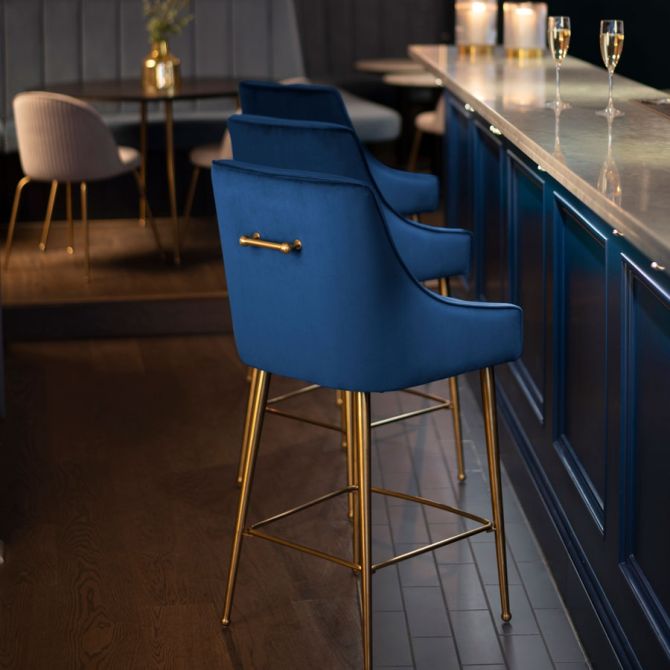 Bar stool style guide-It is the little things that matter when it comes to enjoying your home.
Whether you are sipping your morning coffee or relaxing with a glass of wine after work, your kitchen is a space that should feel warm and inviting. It's the place we gather with loved ones to catch up while we eat and drink.
To make your kitchen complete, you need the perfect bar stools and this style guide will help you choose the best fit for your family and the way you live.
Height
You want your kitchen to be a sanctuary, so the size, style and placement are an important part of choosing the right stool.  Bar stools come in various heights (typically 24", 30", 34").
To determine which size you need, simply measure the height of your table top, counter, or island.  Also, to provide space for legs and hips, a good rule of thumb is to allot 10-12 inches between the stool seat and the underside of your counter or table.
If you measure from the floor to the underside of the counter, you should be able to select the proper seat height for your space.
The number of stools you can fit in your seating area is determined by the amount of space you leave to allow for easy maneuvering.
Here are the rules for the space you should allow between each stool:
Leave 6 inches between seats if the stool is 16-18 inches wide.
Leave 8-10 inches between seats if the stool is wider than 18 inches or has arms or swivels.
Design
Bar stools are a staple seating choice in every home, so we want to be sure that you find the perfect style for your space. There are three basic variations:
Backless- These tuck easily under the eating surface and provide understated utility
Low Back- These provide visual interest and physical support
Full Back – These stools are comfortable and can complement your dining chairs
Details
Deciding between wood or fabric stools depends on your design plan and the look you want for your home.
Wood seats are timeless and show beautifully hand-crafted birch while allowing for easy cleaning when unexpected spills occur.
They can offer both a traditional or contemporary look, come in a variety of stains and even feature fixed or swivel options.
Fabric seats provide a splash of color while offering comfort to your guests. They also give you the ability to spot clean with soap and water.
From luxurious leather to protected Sunbrella fabrics, there are plenty of options to help you find the perfect match.
In the End…
Choosing a bar stool can be overwhelming and complicated, but it doesn't have to be if you follow these simple steps. Hoping this guide will help you to create an Inspired space!
Click on Instagram or TikTok for more product details where available or contact the team for more information about products not currently on our website.
If you want to know more about the bar table, please click this The Perfect Cocktail Table