Choose Plates for Wedding Reception
Learn how to create a cohesive look.
When it comes to choosing the décor for your wedding reception, there are endless possibilities for making a statement. Setting up a beautiful bar will certainly command attention. Of course, decking out your reception space with stunning floral arrangements and unique lighting will help to set the scene. But one of the most prominent parts of a wedding reception? The plates and dinnerware that make up your tablescape.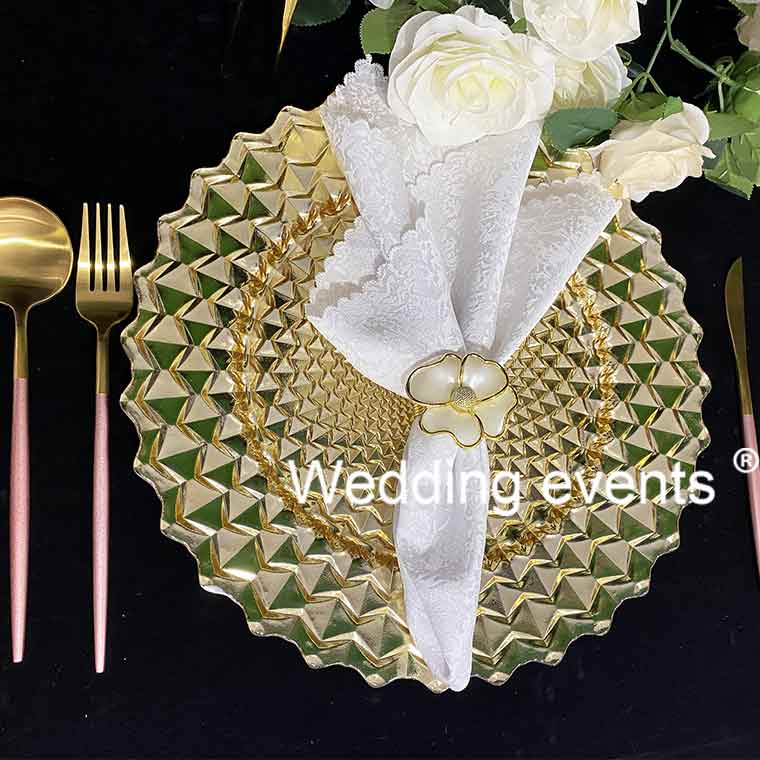 If you're choosing to host a meal during your wedding reception, you're most likely thinking about how to put together a stunning tablescape. And, setting up a beautiful space for friends and family to gather and enjoy a meal certainly requires key attention to detail.
Selecting the type of table, tablecloths, centerpieces, and other décor elements is an important piece of the puzzle. But another key element to think about when planning your tablescape is the types of plates you'll use for your wedding reception. Not only do you want them to be entirely functional, but gorgeous dinnerware is one of the best ways to infuse personality into a tablescape and make a statement.
What's the best way to choose plates for your wedding reception? It requires a bit of planning.
How to Decide Your Plate Style
The first step to choosing the perfect plates for your dinner party is to decide on your plate style. "The menu should dictate the style of the plate in the overall setting," says Cousins. If you're planning to serve a duo entrée, Cousins notes that a 13-inch dinner plate may be required, as opposed to a 10-inch dinner plate for a smaller serving. "It's important to take into consideration the chef or catering team involved and what plate they feel is necessary for their preferred style of presentation and plating," she says. After all, you're leaning into your preferred caterer and their experience to serve an incredible meal.
In considering menu presentation and size, Brooks also notes that you don't want your tablescape to be too visually overwhelming. It's all about creating balance. "Select either the plates or the linens to be your 'statement' piece, but not both," she says.
How Many Plates Do You Need?
Tablescapes are often built with multiple plates at each setting, accompanied by key elements such as linens, place cards, glassware, flatware, and other small decorative details. According to Brooks, a charger, dinner plate, and salad plate are often used for photo styling. However, if guests are being served dinner at the table, it's common to only have the charger at each place setting right before it's time to eat. Once guests are seated, their salad will come out on the salad plate.
"The number of plates will vary depending on the actual menu," says Cousins. "Generally, a three-course meal will include a plate for the starter, one for the main entree, and the dessert, as well as a bread and butter plate. Starters and entrees are served on top of the charger, and then the charger is removed prior to dessert." Of course, if you're planning to serve a family-style meal or a buffet, it's more likely that only one primary plate will be used for dinner, along with a clean plate for dessert. Determining the number of plates needed for service, along with the sizes and types, is important before diving into deciding on shapes, patterns, and designs.
How to Purchase Plates for Your Reception
Once you've determined the number of plates needed for service, where exactly do you get them? If you're planning a wedding with a large guest count, that's a lot of plates! "I always recommend renting if the couple prefers not to utilize China included in their venue contract," says Cousins. "Renting offers couples the opportunity to personalize their table design without the hassle of buying plates." Rental companies offer so many options at a fraction of the cost or the effort.
If you are planning a wedding with a smaller guest list, you may still consider purchasing plates. An intimate wedding with an elaborate dinner may mean that you won't need to purchase as many. Then, they can be used in your home after the wedding. However, be sure to consider how and where you might store them if it's a larger amount than your home kitchen can fit.
How to Weave Plates Into Your Tablescape
If you're hoping to create a jaw-dropping tablescape, weaving your plates into the design seamlessly is an important step. "Your plate selection should be cohesive with your other decor elements such as linens, flower selection, lighting, and shapes in your design elements," says Brooks. She also notes that plates offer the opportunity to incorporate a beautiful design element that would be too overwhelming elsewhere. Don't be afraid to feature bright colors or unique shapes when selecting your reception plates.
It's also important to consider how the food you're presenting will look on your selected plates. "Some might opt for a neutral plate rather than a pattern or color in order to allow the food on the plate to carry the presentation," says Cousins. "Colorful salads or entrees with beautiful sides and garnishes ultimately look best when they are the star of the show."
Consider starting with your chargers to seamlessly weave your plate set-up into your tablescape. According to Cousins, chargers are the easiest way to incorporate design, color, and texture because they are down on the tables long before food service begins. Then, you can layer with selected China to incorporate other colors and patterns, or stick to a neutral plate color to highlight an incredible meal. Of course, other elements on top of the plates such as linens, place cards, and even menus can help to complete the look.
Ultimately, it's all about finding the best fit and size for the style of meal you're planning, along with pairing your plates with what's on the menu. Then, consider options to infuse personality while creating a cohesive look.
If you want to know more about outdoor weddings, please click this:  Cooling Down Summer Weddings 6 No-Sweat Tips