Wedding Sweetheart Tables the Pros and Cons
Is it the right choice for your big day?
Wedding Sweetheart Tables-The seating chart is often the toughest part of planning the reception, and it can even be tricky to figure out where you and your new spouse should sit.
The sweetheart table has grown in popularity in recent years, allowing the newlyweds to sit at a small, often lavishly decorated, table by themselves. However, for some couples, the head table is still the right choice.
This is when a large table, usually at the front of the reception space, features the newlyweds and the wedding party, although sometimes immediate family is seated there instead.
Everyone is typically sat on only one side of a long table, facing the rest of the attendees, though some choose to have their closest loved ones positioned on both sides of the table.
Read the pros and cons of choosing a head table for your reception below, which should help you decide if it's the right choice for your big day.
Pros:
– Surrounded by love. In some cases, your bridesmaids or groomsmen may not live near you anymore and this is a chance to spend extra time with them. Even if they're local, sitting with your close friends is a way to soak up the love all the attendees have for you and your sweetheart on this special day.
– Honor the bridal party. In addition to standing with you at the ceremony and walking down the aisle, the head table shows how prominent your wedding attendants are.
– Fewer tables are needed. If you have one big table with the bridal party, there won't be as many guest tables in the rest of the reception space, which may save a portion of your spending limit for other parts of the day.
Cons:
– Difficult seating dynamics. The bridesmaids and groomsmen probably have significant others or dates who might not know anyone else at the wedding and will feel awkward sitting with strangers. You could always include dates at the head table, but with a larger bridal party that can get unwieldy fast.
– Lack of alone time. Outside of portrait sessions with your photographer, you're unlikely to be able to carve out any alone time with your new spouse, which is why some couples select the sweetheart table so they can soak in their married bliss one-on-one.
– Inflexible layout. Depending on the size of your reception venue, a large table may limit your options for the layout of the rest of the seating. Make sure to discuss the benefits and drawbacks of certain layouts with your planner!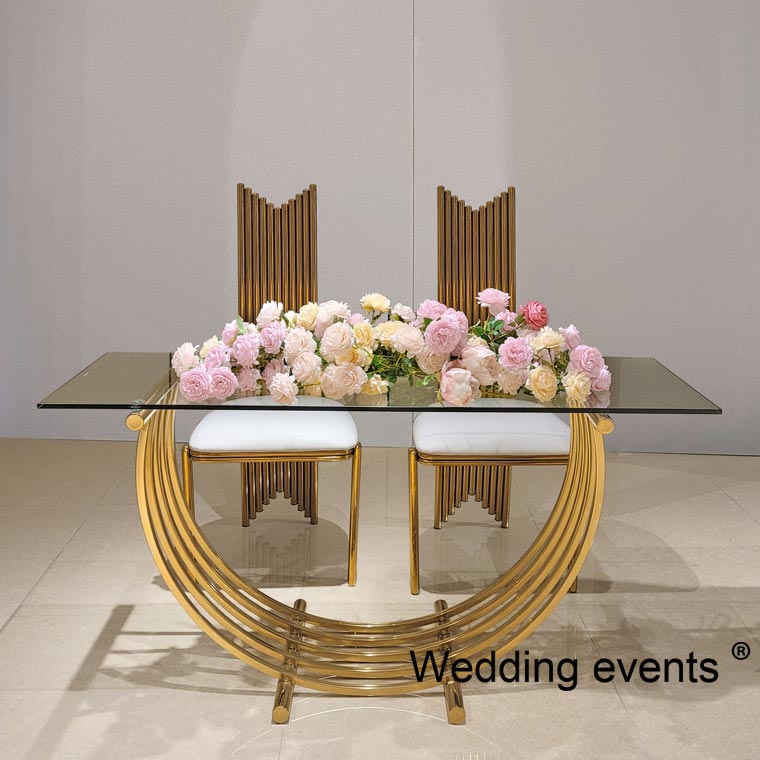 Many are so new they've yet to be added to our website. Click on Instagram or TikTok for more product details where available or contact the team for more information about products not currently on our website.
We also can put the wedding cake on the sweetheart table, how do decorate the wedding cakes? Please click on this article: Decorate wedding cake in 10 creative ways